Argentines Rally After Death of Prosecutor Probing President
Charlie Devereux and Camila Russo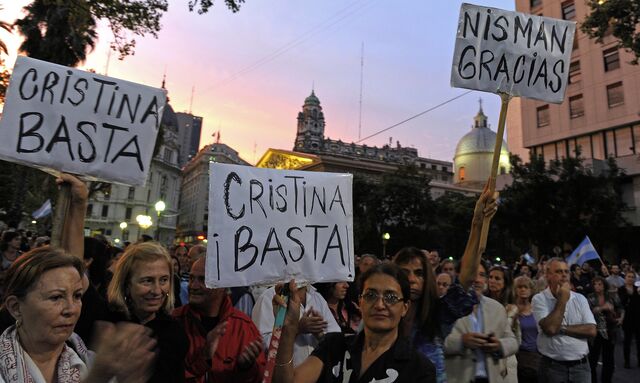 Thousands of Argentines protested Monday night calling for justice after a prosecutor investigating President Cristina Fernandez de Kirchner was found dead.
Alberto Nisman's body was discovered Sunday in his apartment alongside a gun and bullet casing. A preliminary autopsy found a shot through the temple and no evidence of third party involvement, Prosecutor Viviana Fein said in a statement. He was due to provide evidence in Congress Monday to support his allegations that President Fernandez tried to absolve Iranian officials in a 1994 bombing in Buenos Aires.
Nisman's charges, amplified by the timing of his death, are stoking unrest in a country where the government and its allies are accused of money laundering, influence peddling and tax evasion. They deny the allegations. Residents of Buenos Aires could be heard banging pots and pans throughout the city Monday night while demonstrators outside the presidential palace called on Fernandez to quit.
"I'm here because someone who was going to expose the corruption of this government is now dead," Cristina Mullally, a 64-year-old shopkeeper, said outside the palace. "There's a general sense of outrage."
Fernandez on Monday posted a 2,000-plus word letter on her official Facebook page that referred to Nisman's death as a suicide, saying the case has created "bewilderment and questions." She put question marks around the word suicide and never explicitly said he took his own life.
The 61-year-old leader also questioned whether Nisman was being manipulated by unnamed powers to discredit the government, asking why he was called home early from holiday and if he had been presented with the 350-page accusation against the government. She also demanded that the courts investigate why an "employee of the prosecutors" gave Nisman the gun the day before his death when the apartment was already under tight security.
Nisman's Allegations
Nisman was appointed by Fernandez's late husband and former President Nestor Kirchner in 2004 to investigate the 1994 bombing of a Jewish community center that killed 85 people. He alleged that Fernandez and her Foreign Minister Hector Timerman tried to absolve Iranian officials in exchange for preferential trade conditions. Timerman and other Argentine officials deny the accusations.
Cabinet Chief Jorge Capitanich called Nisman's investigation "inconsistent" during a press conference this morning.
The charges play into the hands of the opposition in a year in which voters will choose a new president, said Raul Aragon, a political consultant at Raul Aragon y Asociados. Fernandez is barred by law from running for another term.
Polls show that Buenos Aires province Governor Daniel Scioli, who plans to run under Fernandez's Victory Front alliance, is statistically tied with lawmaker Sergio Massa of the Renewal Front and Buenos Aires city Mayor Mauricio Macri of the PRO party.
Elections Approach
Macri on Monday called for Nisman's investigations to continue while Massa recommended the Supreme Court probe the accusations.
"The opposition is going to drive this issue with all its force to weaken the government as elections approach," Aragon said.
The government said it would comply with Nisman's request to declassify sensitive information and the identities of intelligence agents in his evidence against Fernandez, Oscar Parrilli, head of the state intelligence agency, said in a letter to Judge Maria Servini de Cubria that was distributed by the presidential press office.
Gunpowder Test
A forensic test to look for gunpowder on Nisman's hands came back negative, Fein told Radio Mitre today in an interview. She told local media they couldn't rule out that death may have been induced.
Nisman's mother and a federal police officer assigned to protect the prosecutor entered the apartment after repeatedly trying to contact him on Sunday by telephone and by ringing the door bell. They found Nisman's body blocking the door in the bathroom.
Even if the preliminary report suggests there was no evidence of foul play in Nisman's death, a large proportion of Argentines probably will conclude that his suicide was induced by pressure from the government and its supporters, pollster Carlos Fara of Carlos Fara y Asociados said by phone from Buenos Aires.
Newspaper Clarin reported that thousands of people demonstrated in Buenos Aires Monday, while television images showed rallies in cities throughout the country.
Protesters outside the presidential palace charged barricades set up by riot police and threw rocks while they waved banners saying "We Are All Nisman" in reference to a slogan used to condemn terrorist attacks in Paris this month.
Demonstrators also gathered outside the presidential residence to bang pots and pans.
"The only hope is that after expressing ourselves here, we also do it at the ballot box," said Mullally, the shopkeeper.
Before it's here, it's on the Bloomberg Terminal.
LEARN MORE