Zambia Extends Presidential Election as Heavy Rain Hampers Vote
Matthew Hill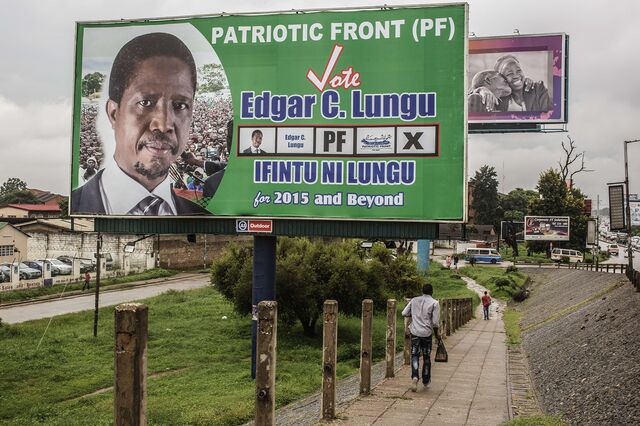 Zambia extended presidential elections into a second day as torrential rain left some polling stations unable to open.
Voting will continue on Wednesday when 51 stations will open for the first time, according to the electoral commission. Polls had been due to close at 6 p.m. local time Tuesday. The announcement of final results, scheduled for Jan. 23, may be delayed by "a day or two," commission official Priscilla Isaac told reporters in Lusaka, the capital.
The campaign to succeed President Michael Sata, who died in October, has highlighted political tensions in Africa's No. 2 copper producer. The top contenders among 11 candidates are the ruling Patriotic Front's Edgar Lungu and Hakainde Hichilema, leader of the opposition United Party for National Development. Whoever wins will inherit a slowing economy and a currency that was Africa's second-worst performer last year.
"It's still going to be a tight race, but the PF are likely going to win," Sinethemba Zonke, a Johannesburg-based consultant at africapractice, a risk analysis group, said by phone on Monday. "They are the incumbent party, and also they've managed to cement the perception that Lungu was anointed" by Sata.
The kwacha fell 2 percent to 6.56 per dollar, a seven-month low, at 10 p.m. in Lusaka.
Lungu, a 58-year-old lawyer who serves as justice and defense minister, has pledged to continue Sata's policies aimed at helping the poor, and an infrastructure program centered on building more than 8,000 kilometers (about 5,000 miles) of roads across the nation of 15 million people.
Mining Taxes
Hichilema, 52, an economist and businessman commonly known as HH, has portrayed himself as an economic manager who will create jobs. With an ethnic base among the Tonga people of Southern province, it's unclear if he can win enough national support to beat Lungu, whose party traditionally has strong backing from the Bemba people, the biggest ethnic group.
The International Monetary Fund said Zambia's economy grew 5.5 percent in 2014, its slowest rate in 12 years, though Finance Minister Alexander Chikwanda said the real figure was 6 percent. Almost two-thirds of Zambia's 15 million people live on less than $1.25 a day, according to the World Bank.
Prices in London for copper, which accounts for more than two-thirds of Zambia's foreign-exchange earnings, have fallen 22 percent from 2014 highs to $5,548 per metric ton this month, a near six-year low.
The government increased charges on miners last year, leading Barrick Gold Corp., the biggest producer of the metal, to say it will put its Lumwana mine under care and maintenance. Glencore Plc and Vedanta Resources and First Quantum Minerals Ltd. also operate in the country.
While Hichilema has said he'll scrap the new system and introduce one that ensures mines pay fair taxes, Lungu said he would hold talks with companies if he wins the vote, the Financial Times cited him as saying Tuesday in an interview.
(An earlier version of this story corrected the surname of election official Priscilla Isaac.)
Before it's here, it's on the Bloomberg Terminal.
LEARN MORE