Swiss Banker Convicted in WikiLeaks Trial Is Spared Prison
Jeffrey Vögeli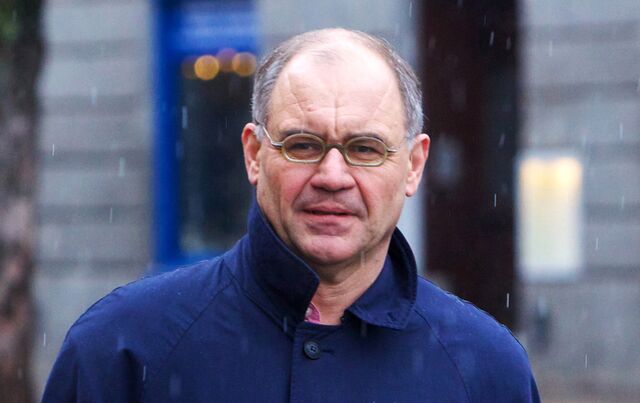 A Swiss banker who faced more than three years in prison for providing WikiLeaks with confidential details of his former employer's offshore activities walked out of a Zurich courtroom a free man on Monday.
Rudolf Elmer, 59, was given a suspended fine of 16,800 Swiss francs ($19,397) for violating Swiss bank secrecy laws under a system that allows courts to convert prison time into a financial penalty. The district court in Zurich said that if Elmer commits another offense in the next three years, he may have to pay the fine, which represents four months in prison.
Prosecutors had sought a prison term of three and a half years for Elmer, saying in their closing arguments last week that he repeatedly betrayed the bank under the guise of humanitarian goals. They had also sought a ban on him working as a banker, which the court also denied.
Elmer, a former senior banking executive in the Caribbean for Zurich-based Julius Baer Group Ltd., has described himself as a whistle-blower who wanted to raise awareness of the use of Swiss bank accounts for tax evasion and other illegal activity. Countries including the U.S., the U.K. and Germany have used testimony from former Swiss bankers or stolen client data to pursue offshore tax dodgers.
"Elmer wasn't surprised by the verdict," said Ganden Tethong, his lawyer. "I already told him beforehand that he need not worry about the three and a half years."
Will Appeal
Elmer was found guilty of providing data on Julius Baer client accounts that was published on the anti-secrecy website in 2008. But the court said it lacked evidence to convict him of handing similar information to WikiLeaks founder Julian Assange at a news conference in London in 2011. Swiss law prohibits bankers from revealing confidential details about their clients.
Elmer was also convicted of forging a letter that falsely accused German Chancellor Angela Merkel of having a Swiss bank account. He was acquitted on another charge of offering data to the German government in 2009.
The verdict didn't appear to satisfy either side. Tethong said she would appeal, calling the ruling "unconvincing." The statute of limitations has run out one of the counts used to convict Elmer, she said.
Prosecutor Peter Giger said he would await the court's full explanation, expected later this year, before deciding whether to challenge the decision.
Political Plans
While such cases are not uncommon in Switzerland, where for almost a century the principle of bank secrecy has been enforced by laws that carry prison terms for offenders, Elmer's trial attracted more attention than most. That's partly because it involved a website that has come under fire from the U.S. and other governments around the world for publishing confidential documents under an avowed commitment to increased transparency.
Elmer worked for Julius Baer in the Caribbean, rising to become the chief operating officer of a unit in the Cayman Islands before his departure in 2002. In 2011, he gave Assange two computer disks that he claimed contained the names of prominent individuals and companies around the world who had engaged in tax evasion and possibly other criminal actions. He was detained and held about six months on a judge's order after prosecutors argued that he might tamper with evidence.
At the start of his trial in December, Elmer recanted and said the disks were empty. He collapsed later that day and had to be taken to a hospital, forcing the court to postpone closing arguments until last week.
Presiding Judge Sebastian Aeppli said the court took into consideration the time already served, lowering the fine from 45,000 francs, equivalent to about 10 months in prison at 150 francs a day.
Elmer has continued to campaign against an offshore banking network that he says enables wealthy people to hide money from authorities. He plans to run for election as a cantonal legislator in the spring. He is a candidate for the Alternative List, a socialist party sympathetic to his cause.
Before it's here, it's on the Bloomberg Terminal.
LEARN MORE