Times Seeks India Takeovers to Vie With Google for Ads
Bianca Vázquez Toness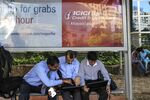 The Times of India Group, owner of the world's largest English-language newspaper by circulation, plans to acquire companies as it competes with Google Inc. and Facebook Inc. for local online advertising revenue.
Times Internet Ltd., part of the group, seeks to buy three or four online-service companies in the next six months, Chief Executive Officer Satyan Gajwani, 29, said in an interview. The company will also raise about $105 million for its Gaana music-streaming service and real-estate website Magicbricks.com, he said.
"We have about five conversations that are live right now," Gajwani said by phone Jan. 14, without naming any potential takeover targets. "My guess is that three or four of them will materialize in the next six months."
The plans are part of a strategy to develop consumer services -- from Bollywood music streaming to cricket scores on smartphones -- that can help Times Internet claim a larger part of India's online advertising revenue, which is forecast by Emarketer.com to rise to $1.8 billion in 2018. The number of Internet users in the South Asian nation is estimated to exceed 500 million by 2018, up from 190 million in June, according to a report by Internet and Mobile Association of India and Boston Consulting Group.
"Times is basically ensuring they have a finger in each pie," said Neha Dharia, a analyst in Bengaluru with London-based Ovum Plc research. "If Times Internet invests in really smart companies, they can become a force to reckon with in India, but probably not in the next two years. That's because it's such a dynamic market and investment is coming from unexpected quarters."
Most of the companies being considered for acquisition are in areas where Times Internet doesn't already have a presence, Gajwani said.
Market Share
Facebook accounted for about 25 percent of the display advertisements pushed to desktop and laptop users in India in November, while Google had a 12.3 percent market share, according to researcher ComScore Inc., based in Reston, Virginia. Times Internet got just 1.5 percent of the share, ComScore data show.
Last year, the company bought five start-ups: independent music streaming portal Musicfellas.com, restaurant booking site Dineout, coupon site Coupon Dunia, personal finance platform Moneysights.com and the cricket score smartphone application Cricbuzz.
"When you're reading the news, listening to music, trying to buy a house -- our goal is if we can be relevant and helpful in your life across these different areas, that's a good thing," Gajwani said.
Gajwani said he expects Cricbuzz to top 75 million unique users during the Cricket World Cup in February. The service was founded and is run by former Infosys Ltd. engineers in Bengaluru, formerly known as Bangalore.
Streaming Music
Times Internet also plans to develop Magicbricks.com and Gaana. The company aims to raise about $30 million for Gaana, which it started in 2010. Plans for the site, which ranked 28th on Android's download charts in India and 16th on Apple Inc.'s as of Jan. 19, include building an algorithm to make personal music recommendations, more marketing, and licensing more music.
Gaana has 15 million users, including its app on smartphones and monthly users on Web, and targets to reach 100 million in the next three years, Gajwani said.
The service faces competition from Wynk, a free streaming music app released in September by Bharti Airtel Ltd., India's largest mobile carrier. Wynk ranked 22nd on the Android charts in India as of Monday Jan. 19, ahead of Gaana, and was 23rd on Apple's local download charts.
Real Estate
Magicbricks.com, started in 2006, is in discussions to raise $75 million, Gajwani said. The money raised will pay for technology, hiring more sales people, and marketing. The site targets a real-estate advertising market worth $600 million, according to Gajwani.
Competition among real-estate sites is intensifying, with several offering users the ability to see available properties for sale and rent. Indiaproperty.com is 128th in India on website ranking site Alexa.com. Info Edge (India) Ltd.'s 99acres.com ranks 141st, and Magicbricks is 150th.
Prime Minister Narendra Modi's government plans to bring broadband Internet to rural Indians by wiring 250,000 village clusters by end 2016. Online advertising spending in India is estimated to reach $970 million this year and $1.8 billion in 2018, according to Emarketer.com.
The growth has drawn increased interest from Facebook and Google. Facebook began a new advertising strategy in India last year, and Google introduced its Android One phone targeting new smartphone users.
Times Internet is "probably the largest company outside of Google and Facebook in terms of ad revenue in India," Gajwani said, without revealing exact figures.
Ad Feedback
Times Internet is a fully owned unit of Bennett, Coleman & Co., the flagship company of the Times Group and publisher of The Times of India newspaper. Gajwani is married to the granddaughter of Bennett, Coleman & Co. Chairperson Indu Jain.
As Times Internet adds more content and services, it's also developing technology to reach new advertising clients, particularly small businesses with limited marketing budgets.
A new self-service online platform lets clients buy ads without talking to a salesperson. The system helps clients target ads to specific demographics. Times Internet will then supply feedback on an ad's performance, similar to what Google does.
"For small advertisers, they're less interested in branding and more interested in the response that they get," Gajwani said. The new advertising system "will open up a huge revenue stream that we haven't touched," he said.
Before it's here, it's on the Bloomberg Terminal.
LEARN MORE