The Data You Need to See Before Obama's State of the Union Address
The president's big speech will be informed by several recent polls.
By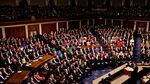 Like nature, politics abhors a vacuum. 
As President Barack Obama prepares to deliver his penultimate State of the Union address on Tuesday, his proposals will be shaped by a combination of factors. While presidents have long relied on poll-tested lines, those zingers that are guaranteed to garner instant approval from a majority of viewers, their ideas also need to reflect longer-term societal trends. 
For Obama, lest you think he was simply trying to troll the GOP with his remarks, there's a trove of fresh data from which to draw upon while crafting the priorities for his final two years in office as he faces off with a Republican-controlled Congress.  
Approval rating
A funny thing happened after Obama and the Democrats suffered a thumping in the mid-term elections: Obama's approval rating began trending upward. In fact, a Washington Post/ABC News poll shows Obama hitting 50 percent, a nine-point jump since December. One probable reason? The continued improvement of the nation's economy. Last year saw the strongest job gains since 1999. A total of 2.95 million jobs were added in 2014, leading to an unemployment rate below 6 percent and undercutting Republican attempts to paint Obama as a job killer. 
Taxing the rich
The big caveat to the strong job numbers of the past year is that economic inequality continues to rise. A study released Monday by Oxfam found that by 2016 the richest 1 percent in the world will own a staggering 50 percent of its wealth. "The scale of global inequality is quite simply staggering and despite the issues shooting up the global agenda, the gap between the richest and the rest is widening fast," Oxfam executive director Winnie Byanyima said in a statement. Once a topic that few Republicans talked much about, of late Mitt Romney and Jeb Bush have each signaled their intention to make the wealth gap an issue in the 2016 campaign. Last week, the White House announced Obama would propose new taxes on the wealthiest Americans in hopes of helping the poor and middle class. 
Immigration 
While Republicans in Congress continue to try and figure out a way to undo Obama's executive immigration order that effectively legalizes more than four million undocumented workers, polls have tended to side with the president. A December poll conducted by NBC News and the Wall Street Journal showed that Obama's approval rating among Latinos jumped by 10 percentage points following his executive order. And while a strong majority polled by CNN/ORC said they believed Obama's order had gotten it right on the issue, 56 percent said they did not approve of the means the president used to achieve his ends. 
Climate change
2014 was the warmest year on record, and, according to data from NOAA's National Climatic Data Center, "the 20 warmest years in the historical record have all occurred in the past 20 years." Along with thawing glaciers, there is also some evidence that doubts about whether global warming is occurring are also melting away. A two-year study conducted by Yale University released  found that 44 percent of Republicans now believe that global warming is happening, as compared with 66 percent of all registered voters who said so. Just 29 percent of Tea Party Republicans believed global warming is a reality, however. After reaching an agreement with China that commits the U.S. to new targets for greenhouse gas emissions, the president will likely need those numbers to continue growing. 
Keystone XL pipeline
Republicans in Congress are tired of what they see as Obama's constant delays on whether to approve construction of the Keystone XL Pipeline, and have made the issue their top priority for the current legislative session, and have demanded that Obama sign their bill. At the same time, a formal State Department review of the impacts of the project will not be completed until Feb. 2. While Senate Majority Leader Mitch McConnell and House Speaker John Boehner argue that the project will result in tens of thousands of jobs for American workers, a clear majority in the Post/ABC poll, 61 percent, say that Obama should wait to hear what the State Department recommends before acting.