Professor Seen as BOJ Board Candidate Wants Price Goal in Law
Toru Fujioka and Masahiro Hidaka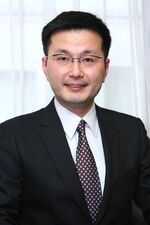 The Abe administration should codify in law the Bank of Japan's inflation target to boost the effectiveness of record monetary stimulus in reflating the economy, said Masazumi Wakatabe, an economics professor at Waseda University.
Holding the central bank accountable for 2 percent price gains would stabilize inflation expectations, which have tumbled with the fall in oil prices, said Wakatabe, 49, who is seen by Bank of America Corp. and UBS Group AG as a potential candidate for a policy board position. "Strengthening the BOJ law will be the key point for reviving Abenomics," he said in an interview.
The BOJ must consider expanding stimulus, given inflation has slowed, with the decline in oil prices pushing it further from its 2 percent target, Wakatabe said on Jan. 16 in Tokyo. "If the BOJ wants to show its commitment, a logical conclusion should be that more BOJ action is necessary," he said.
"Wakatabe has shown his understanding of quantitative easing," said Masayuki Kichikawa, a Bank of America economist who sees Wakatabe as a candidate to succeed Ryuzo Miyao, whose term expires on March 25. "Abe will choose someone who can support the current BOJ leadership to continue easing."
Another BOJ seat will open up on June 30, when Yoshihisa Morimoto's tenure ends.
Wakatabe declined to comment when asked about his interest in joining the BOJ's policy board. "It's desirable to have someone who has been trained in the field of economics as that's been a global standard," he said.
Split Vote
The government ought to discuss a revision to the BOJ law at the parliament session starting this month, said Wakatabe.
Governor Haruhiko Kuroda led a divided board on Oct. 31 to increase already-record asset purchases, with the 5-4 vote the closest BOJ decision since 2008. Miyao supported the move, while Morimoto dissented.
The replacements for the two board members are "very important" after October's split decision, said Etsuro Honda, an economic adviser to Prime Minister Shinzo Abe.
Consumer prices excluding fresh food and the effects of a sales-tax increase last April -- the BOJ's main inflation gauge -- increased 0.7 percent in November from a year earlier.
Fifteen of 31 economists in a Bloomberg News survey conducted Jan. 9-14 said they saw a possibility that core inflation will turn negative at some point this year.
Wakatabe said it's important for the BOJ to pay heed to the decline in inflation expectations signaled by the bond market.
The 10-year break-even rate, one such gauge, indicated yesterday in Tokyo that investors see annual inflation of just 0.709 percent over the next 10 years, down from a peak of 1.39 percent last June.
Companies see 1.6 percent of inflation in three years while households predict 3 percent in a year, unchanged from three months earlier, according to BOJ quarterly surveys.
Twenty-six of 33 of economists in the Bloomberg survey forecast the BOJ will expand monetary stimulus by the end of October. Nobody in the survey predicted any expansion at the policy meeting ending on Jan. 21.
Before it's here, it's on the Bloomberg Terminal.
LEARN MORE