On MLK Day, Biden Addresses Police-Minority Relations
The vice president urged the mending of relations during a speech in his home state.
By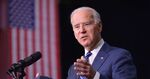 Vice President Joe Biden addressed the rift between minority communities and police forces on Monday in a Martin Luther King  Jr. Day speech in his home state of Delaware. "There's no reason on Earth we cannot repair the breach," Biden said, according to the News Journal.