On MLK Day, Biden Addresses Police-Minority Relations
The vice president urged the mending of relations during a speech in his home state.
By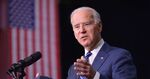 Vice President Joe Biden addressed the rift between minority communities and police forces on Monday in a Martin Luther King  Jr. Day speech in his home state of Delaware. "There's no reason on Earth we cannot repair the breach," Biden said, according to the News Journal. 
Speaking at the Organization of Minority Women's Dr. Martin Luther King Jr. Breakfast in Wilmington, the vice president said that, in the wake of the controversial decisions and consequent protests in Ferguson, Mo., and Staten Island, N.Y.,  the country has to reconcile two truths. "Cops have a right to go home at night to see their families," Biden said. "And two, all minorities, no matter what their neighborhood, have a right to be treated with respect and with dignity. All life matters."
The vice president addressed the fears that all parents have about their children, saying such fear is compounded when parents and family members have to worry about the possibility that a child "is seen as a threat, instead of the great benefit to society that child is going to be," he said. 
Biden credited the minority community of Delaware for electing him to be a senator, while also recognizing Wilmington's police. He also spoke about the two police officers who were recently killed in New York City, pointing out that they, too, were minorities who had dealt with prejudice. 
"Folks, we've got to start seeing one another," he said. 
He urged measures to increase diversity in police departments, increased use of body cameras, better oversight and better training for police. 
He did not address the recent shooting incident near his home, according to the report.