OAS Bondholders Brace for Collapse as Cash Crunch Deepens
Paula Sambo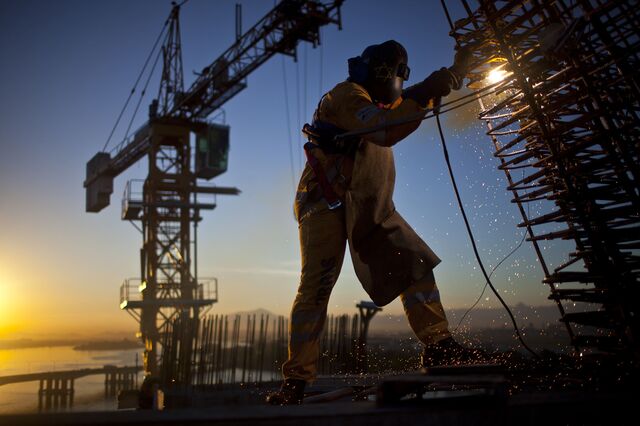 As OAS SA tries to line up bank financing to avert a default, bond investors are already bracing for what may be the largest collapse in Brazil since Eike Batista's corporate empire went bust.
The construction company's $875 million of notes due in 2019 have plunged more than any other in emerging markets this year after missing a debt payment this month. At 18 cents on the dollar, OAS now trades in a range that implies the company will be liquidated, according to Oppenheimer & Co.
OAS was named in Brazil's largest corruption investigation as one of several builders alleged to have bribed state-run Petroleo Brasileiro SA in exchange for contracts. While OAS is trying to renegotiate its debt and seeking a 2 billion real ($760 million) loan from its bankers, bondholders have abandoned OAS on speculation it will ultimately seek bankruptcy protection, according to Oppenheimer's Omar Zeolla.
"OAS is scrambling to find financing, and the fear that the company might file for bankruptcy doesn't help," said Zeolla, an analyst at New York-based Oppenheimer. "The bonds are reflecting expectations of liquidation or, to say the least, very long restructuring negotiations."
The company's press office said in an e-mail that OAS is in discussions with some of its main creditors and seeking an "organized restructuring to preserve liquidity and the continuity of its operations."
Legal Advice
A committee representing holders of more than 50 percent of the company's foreign-currency bonds hired FTI Consulting Inc. as a financial adviser and law firms Pinheiro Neto Advogados and Morgan Lewis & Bockius LLP for legal advice, a person familiar with the matter said Jan. 13.
The decision to skip some payments on Jan. 2 caused its benchmark 2019 notes to tumble to as low as 10 cents on the dollar. Its $400 million of securities due 2021 have plunged to 18 cents from more than 90 cents in November.
Brazil's real fell 1.1 percent to 2.6509 per dollar today.
Since 1999, 11 out of 15 Brazilian companies have defaulted after their bonds sank below 40 cents, data compiled by Bloomberg show. Nine have filed for bankruptcy protection.
The builder has sought a loan that would be repaid with asset sales, three people with knowledge of the matter said on Jan. 9. The loan would be backed by OAS's stake in Invepar, an airport operator, said the people, who asked not to be identified because the discussions are private.
'Very Tough'
"This default-that-could-turn-into-bankruptcy scenario makes it very tough for OAS to raise cash," Carlos Gribel, the head of fixed income at Andbanc Brokerage LLC, said in a telephone interview from Miami. "That's why they have no option but to offer their assets as collateral."
OAS is also trying to sell its stake in the group operating Guarulhos airport, according to four people familiar with the situation, who asked not to be named because the talks are private.
While filing for bankruptcy is a possibility, the potential restructuring may create an attractive opportunity for OAS's bonds, according to Marcelo Barbosa Lima, a fixed-income trading manager at INTL FCStone Securities Inc. in Miami.
"With notes at those levels, it might make sense to buy," Lima said in an e-mail. He sees creditors recouping as much as 27 cents for every dollar in obligations.
A loan would only bring about temporary respite and put bondholders further back in line to get repaid if OAS ultimately collapses, Oppenheimer's Zeolla said in a report dated Jan. 14.
"Receiving this loan would be positive," he wrote. Yet it "would raise the amount of debt ahead of the bonds."
Before it's here, it's on the Bloomberg Terminal.
LEARN MORE