Jets Face NFL Tampering Charge After Revis Comments, ESPN Says
Erik Matuszewski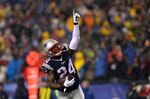 Tampering charges have been filed against the New York Jets as a result of comments owner Woody Johnson made last month about New England Patriots cornerback Darrelle Revis, ESPN reported, citing a National Football League official it didn't identify.
The NFL is investigating the matter to determine if Johnson violated league rules by talking about an opposing team's player and whether the Jets should be fined, ESPN said.
Johnson last month praised Revis, who played for the Jets from 2007-12, and said during a season-ending news conference that he'd love Revis to come back to New York. Johnson said later that day he misspoke and wouldn't ever interfere in the contractual relationship of a player with another team, calling Patriots owner Robert Kraft to "emphasize those points."
Revis, 29, a four-time All-Pro, would become a free agent after this season if the Patriots choose not to exercise the $20 million option in his contract for the 2015 season.
Before it's here, it's on the Bloomberg Terminal.
LEARN MORE