Indonesia Pushes Pertamina Revamp in State Enterprise Reform
Neil Chatterjee and Fathiya Dahrul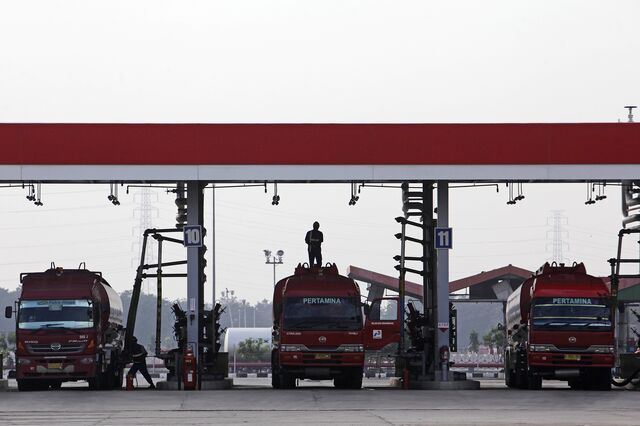 Indonesia will overhaul national oil company PT Pertamina as the government seeks to improve the management of state-owned enterprises and deliver infrastructure projects after slashing fuel subsidies.
A plan for Pertamina to take over oil importing from its offshore trading unit, Petral, will increase domestic oversight of the company's energy purchases, Rini Soemarno, the state-owned enterprises minister, said in a Jan. 16 interview. The removal of gasoline subsidies at the start of 2015 will also reduce opportunities for irregular transactions, she said.
"We're not aiming at people, we're aiming at practices, which have been in play for quite a while," Soemarno said in her first interview with international media since being appointed to the cabinet three months ago. "The system that we're going to build is very transparent."
President Joko Widodo, known as Jokowi, came to power last year on pledges to improve the bureaucracy, cut corruption and free up funds to build infrastructure. The energy industry has been an early focus: the new government undertook the biggest revamp of the country's decades-old fuel subsidy system in January and one of Soemarno's first acts was to replace the chief executive and board of Pertamina in November.
Pertamina will be benchmarked against other companies, with the aim to meet global standards, the minister said, declining to specify performance targets.
Energy 'Mafia'
"In some cases we move people," she said. "We have not done yet the drastic measure of just firing people."
The Pertamina reorganization and the subsidy changes will improve the transparency of oil transactions and help curb what the government has described as an energy "mafia," said Soemarno, wearing a white shirt that's becoming a hallmark of the Jokowi administration.
The president introduced his cabinet in white shirts, symbolizing their goal to clean up a country ranked 107th on a list of countries and territories in Transparency International's Corruption Perceptions Index for 2014.
There has previously been a lack of transparency about how Southeast Asia's largest economy imports oil, the price it pays and who wins the contracts, with these business practices being the key areas for the "mafia," Soemarno said. Petral, which has acted as the energy product buyer for Pertamina, will concentrate on conducting international oil trading in the future, she said.
Managed Properly
"We want to work professionally, transparently, based on good corporate governance, and ensuring a return on state capital," Soemarno said. "That way people can see exactly whether these companies, which are basically owned by the people, are being managed properly."
Jokowi's leadership style is open and informal and that is aiding efforts to reform the bureaucracy, said Soemarno, a former trade and industry minister who headed Jokowi's transition government team.
"Most important is improving the system, the management system," she said. Previously, officials sent letters back and forth and now ministers communicate directly to solve a problem in a week or two rather than in several months, she said.
While the previous government promised to overhaul infrastructure and made little progress, this one will succeed because of better communication and a land acquisition law that enables the state to acquire land for public projects, she said.
Toll Roads
Breaking ground on a major project in the next few months would be a powerful indication Jokowi means business, Sarvesh Suri, Indonesia country manager for International Finance Corp., part of the World Bank Group, said earlier this month.
The revamp of fuel subsidies implemented at the start of 2015, which included capping state aid for diesel, will also allow the government to start projects this year, Soemarno said. They include toll roads, rail, a port on Sumatra island, cement and fertilizer factories in Papua and other projects across the archipelago from power to metal-ore processing, she said.
"There are going to be quite a few in the next six months," she said, referring to the projects. State-owned companies will seek to use infrastructure development to aid economic progress in remote areas, with the state's biggest investments to be in electricity production and transmission, she said.
The government plans to inject 48 trillion rupiah ($3.8 billion) from the 2015 budget into state-owned companies, rather than funding projects directly, as a way of speeding up delivery, Soemarno said.
There are 119 companies directly owned by the state, with combined assets of about 4,500 trillion rupiah, she said. Twenty are listed, and account for more than a quarter of the market capitalization of the country's stock exchange, according to ministry figures. No further public offerings are planned for this year, she said.
Before it's here, it's on the Bloomberg Terminal.
LEARN MORE