Erdogan's 'I'll Call Them' Fuels Turkish Rate-Cut Bets
Constantine Courcoulas and Onur Ant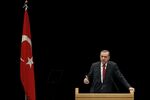 While foreigners are pulling money from lira bonds, Turkish investors are loading up on the securities on bets interest rates will decline.
Yields on two-year government bonds fell 147 basis points in the past month through Jan. 16, the second-biggest drop in emerging markets, on speculation central bank Governor Erdem Basci will start a cycle of rate cuts as soon as tomorrow. Amid the rally, foreign investors withdrew $1.1 billion from their holdings of lira debt in the week ended Jan. 9, the most since August.
While the median of 22 economist estimates on Bloomberg forecast no change in the 8.25 percent benchmark rate tomorrow, five of six Turkish banks and brokerages predict Basci will cut interest rates for the first time since July. Optimism at home may be building that central bank policy makers will lower borrowing costs after President Recep Tayyip Erdogan said Jan. 16 "I'll call them and talk" if necessary, saying he didn't know what they were waiting for.
"Erdogan seems to be pushing on the doors, which are already half-opened, given that the odds are firmly skewed to lower interest rates in the coming months," Piotr Matys, an emerging-market strategist at Rabobank International in London, said by e-mail on Jan. 16. "But perhaps Governor Basci may prefer to wait until the ECB reveals new monetary policy tools."
To quell the threat of a deflationary spiral, the European Central Bank is weighing stimulus measures that may include large-scale purchases of sovereign bonds, helping to drive global yields to record lows. Policy makers in countries from India to Peru to Egypt have cut borrowing costs in the past month.
'Bless Them'
As foreigners sell lira debt, the share owned by domestic investors has jumped to 74.5 percent, the highest proportion since October, according to central bank data as of Jan. 9.
Erdogan has repeatedly called for the central bank to lower interest rates in the past year.
"Bless them, the central bank is standing still while everyone else in the world is cutting interest rates," Erdogan said in a speech to business leaders in Ankara on Jan. 16. "What are you waiting for?"
Basci has withstood the political pressure, keeping the one-week repurchase rate unchanged since July. He more than doubled the rate at an emergency meeting last January to halt a slide in the lira.
The lira depreciated 4.9 percent against the dollar last month, putting it among the six worst-performing emerging-market currencies. It weakened 0.5 percent to 2.3382 per dollar at 3:49 p.m. in Istanbul. Two-year lira yields fell 12 basis points to 7.37 percent, extending this year's decline to 65 basis points.
Cheaper Fuel
Domestic bets for lower interest rates are supported by the collapse in oil prices. Brent crude has dropped by around 50 percent since its 2014 peak. Expectations for annual inflation a year from now declined to 6.81 percent this month from 7.21 percent in December, according to the central bank's survey of economists and business executives.
Oil prices will help the inflation rate drop "significantly" in the first quarter, Pinar Uslu, a strategist at ING Bank in Istanbul, said by e-mail on Jan. 16. The year-on-year decline "would open the door for the central bank to decrease its policy rates," she said.
Garanti Bankasi AS, Turkey's largest listed lender, said Jan. 16 it expects the one-week repo rate to fall to 7.5 percent in 2015.
"Locals believe the central bank will cut rates and tend to increase their exposure to the bond market; foreigners are more cautious," Ozlem Derici, an economist at Deniz Yatirim in Istanbul, said by e-mail Jan. 16. While Derici doesn't expect a cut tomorrow, she said "if it occurs the bond market rally would continue."
Before it's here, it's on the Bloomberg Terminal.
LEARN MORE