Cameron Backs Letter to Mosques Urging Action on Extremism
Benjamin Katz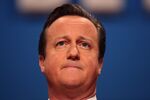 Prime Minister David Cameron defended a letter sent to England's mosques asking Muslim leaders to help counter Islamist extremism in Britain.
Cameron was responding to critics including the Muslim Council of Britain, which said the letter from Communities Secretary Eric Pickles insinuated that extremism took place at mosques and "could have been worded differently."
"Anyone reading this letter who has a problem with it, I think really has a problem," Cameron said in a question-and-answer session after a speech today in Ipswich, eastern England. "It's the most reasonable, sensible, moderate letter that Eric could have written."
In the letter, Pickles and Communities minister Tariq Ahmad say Muslim leaders are in a "unique" position to address radicalization. It follows the killing in France of 17 people by three self-proclaimed Islamist gunmen this month. The letter cites a march by 3 million people in Paris last week protesting the attacks.
"It's absolutely right to write this letter to say that we all have a responsibility to fight extremism," said Cameron. "Anyone who reads this letter, and I've read this letter, will see that what he's saying is British Muslims make a great contribution to our country, that what is happening in terms of extremist terror has nothing to do with the true religion of Islam."
'Hate Mail'
"We agree with your assertion that British values are indeed Islamic values," Muslim Council of Britain Secretary General Shuja Shafi said in a letter to Pickles today. "However, we do take issue with the implication that extremism takes place at mosques, and that Muslims have not done enough to challenge the terrorism that took place in our name."
He said mosques and Muslim institutions had been attacked and targeted with hate mail since the attacks in France.
"We also reject suggestions that Muslims must go out of their way to prove their loyalty to this country of ours," Shafi said.
In November, a report from the U.K. government schools inspectorate said pupils at schools in the London borough of Tower Hamlets were vulnerable to extremism. Tower Hamlets was spread across newspapers in August after a black flag with white Arabic writing, resembling those flown by Islamic State, was raised above a housing project in the East London district.
Cameron described Islamist extremism as a "poisonous, fanatical death cult."
Before it's here, it's on the Bloomberg Terminal.
LEARN MORE