Banks Warn Swedish Rate Drop Making Homeowners Complacent
Jesper Starn and Niklas Magnusson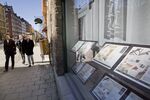 More than three years of falling interest rates have made Swedes complacent about the risks of household debt costs, the nation's biggest lenders said.
That's evident in the mortgage market where the majority of borrowers are taking flexible-rate loans even as long-term rates hit historic lows. About 60 percent of clients Svenska Handelsbanken AB's Stadshypotek unit, the second-largest mortgage lender, pick short-term adjustable loans.
"The market is too heavily tilted toward three-month contracts," Ulrica Stolt Kirkegaard, the head of the unit, said by telephone on Jan. 12. "Not all Swedish households have a good enough economy for such a high share of flexible rates -- there is too much optimism."
The warning comes as the nation's central bank is prepared to drive down long-term rates further. The Riksbank last year cut its benchmark rate to zero and said it was prepared to enact so-called quantitative easing if necessary to end the largest Nordic economy's descent into deflation.
The Stockholm three-month interbank lending rate slid to 0.21 percent last week, down from more than 2.7 percent at the end of 2011. The 10-year swap rate, a fixed cost derived from the interbank rate, fell to almost 1 percent, compared with a high of almost 4 percent in 2011. That was the lowest since 1991 at least, according to data compiled by Bloomberg.
The reliance on flexible rates has become a focal point in a debate on how to reduce the risks that record household debt levels pose to the economy. Martin Andersson, the director general of the Stockholm-based Financial Supervisory Authority, said in an interview last year that "there's of course a vulnerability" related to the rising use of variable rates.
Capping Rates
The watchdog has capped mortgages at 85 percent of home values and is planning to force households to pay down new mortgages to 50 percent of the value. The central bank has demanded more action is taken to stem credit growth, which rose at its fastest pace in more than three years in November. It has called on exploring measures including loan-to-income ratios and limiting the use of variable rates.
For now, as rates decline, there are few indications that Swedes are willing to change their dependence on short-term loans, according to Sweden's four biggest banks.
Handelsbanken has seen "no dramatic changes in our customer selection of rate types," Stolt Kirkegaard said. Swedbank AB, the largest mortgage lender, has observed more customers choosing flexible rates for "a long time now," said Claes Warren, a spokesman for the bank.
Five-Year Lure
"We haven't detected any increase in customers signing long-term contracts or in any other way changing their behavior due to the Riksbank lowering the repo rate to zero," he said.
While adjustable loans are still popular at Nordea Bank AB, more customers are opting for mortgages with a rate cap, according to spokesman Petter Brunnberg. SEB AB said only 15 percent of its clients selected fixed rates in December, which was only a "marginal" increase from a year earlier, according to Anna Helsen, a spokeswoman for SEB.
SBAB, the state-owned lender, was able to lure some customers away from the shortest adjustable loans by lowering its five-year rate to 2.1 percent from 2.75 percent. The number of new clients that opted for three-month rates slumped to 54 percent in December from 73 percent the previous month.
With five-year rates at the lowest level in at least 10 years, Swedes should start considering how they split their loans between long- and short-term rates, Stolt Kirkegaard said. There's unlikely to be any major change in behavior as long as mortgage costs are so low, she said.
"There is nothing suggesting rates running amok this year," she said.
Before it's here, it's on the Bloomberg Terminal.
LEARN MORE