Zambia Ruling Party Turmoil Dents Chances in President Vote
Matthew Hill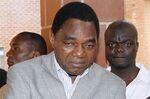 As Fridah Chisha sold small bags of charcoal on a dusty street in the Zambian mining town of Chingola, she wasn't sure if she would vote again for the ruling Patriotic Front candidate in Tuesday's presidential election.
While the PF won more than two-thirds of the votes in the Copperbelt province in elections in 2011, a bruising leadership battle that followed the October death of its founder Michael Sata dented support for the party. With the highest number of registered voters, the region that's the mainstay of the economy is key to the ballot's outcome in the southern African nation.
"I voted for PF in 2011," Chisha, 45, said. "Now, I have doubt. I just have a question mark." There's too much "confusion" in politics, she said.
Darkening economic clouds await either the PF's Edgar Lungu, 58, or Hakainde Hichilema, 52, head of the opposition United Party for National Development -- the two leading candidates for the presidency of Africa's second-biggest copper producer.
While the International Monetary Fund said the economy expanded 5.5 percent in 2014, its slowest rate in 12 years, Finance Minister Alexander Chikwanda put growth at 6 percent last year, making it the 10th-fastest growing in the world. Still almost two-thirds of Zambia's 15 million people live on less than $1.25 a day, according to the World Bank.
Copper prices that fell to a six-year low last week pose risks to that growth. The metal accounts for about 10 percent of gross domestic product, a quarter of government revenue and more than 70 percent of export earnings, according to the IMF.
Government Debt
Zambia's kwacha was Africa's worst performing currency over the past 12 months after the Ghana cedi, retreating 15 percent against the dollar. Government debt increased to 32 percent of gross domestic product last month, with external borrowing totaling $4.7 billion, Chikwanda said Dec. 30. Yields on six-month treasury bills rose to 18 percent, the highest level since 2005, in a Jan. 8 sale.
"Zambia has enjoyed very healthy GDP growth," Joseph Rohm, a fund manager who helps oversee Cape Town-based Investec Asset Management's $2 billion Africa fund, said by phone on Jan 16. "There is a lot more uncertainty given the fall in the copper price."
Hichilema, an economist with a masters degree in business administration from University of Birmingham who's known as HH, is seen to be more investor friendly than Lungu, a lawyer who's justice and defense minister.
'Business Friendly'
"Arguably, HH will be a bit more centrist or business-friendly, but there's really not a heck of a lot of ideological space in contemporary Zambia," said Scott Taylor, associate professor and director at Georgetown University's African studies program in Washington DC, said in reply to e-mailed questions on Jan. 13.
The new president will face the prospect of Barrick Gold Corp., the biggest producer of the metal, putting its Lumwana mine under care and maintenance. The company announced the move in December after the government introduced a new system that tripled royalties for the operation while removing income tax. Miners including Glencore Plc and Vedanta Resources and First Quantum Minerals Ltd. also operate in the country.
Lungu has largely avoided the subject, and Hichilema has said he'll reverse the new system and introduce a new one that ensures mines pay fair taxes.
Job Losses
"I think prudence will see a renewed PF government inclined to reduce the rate from 20 percent, but not back to the original 6 percent," said Taylor, who's written a book on Zambian culture and worked as an election observer in the country. "The regular election is far too near in 2016 for any of them to recover from massive job losses on the Copperbelt."
The election was called to replace Sata. The acting president, Vice President Guy Scott, is barred from standing in the elections as his parents were born in the U.K. General elections are due in September 2016.
Zambia's political landscape has changed dramatically since the 2011 elections. Leadership fights in both the PF, which won 42 percent of the national vote then, and the main parliamentary opposition Movement for Multiparty Democracy have offered Hichilema his greatest chance of victory after polling third in each of his previous three elections.
"Lungu has the benefit of incumbency, but the damage done through the public infighting may be severe. Moreover, he is not Sata," Taylor said.
Support Base
Hichilema faces a challenge in increasing the 18 percent he gained in the last elections by enough to win. His support base has historically been in Southern province and he's struggled to penetrate other areas. In Lusaka province, which has the most registered voters, he received 11 percent of the vote in 2011.
"I think both the PF and, by extension, Lungu retains enough popularity to win the elections," Stephen Chan, world politics professor at the University of London's School of Oriental and African Studies, said in an e-mailed response to questions on Jan. 12. "Lungu has a great personal following."
Lungu has pledged to continue Sata's pro-poor policies and infrastructure development that is centered on building more than 8,000 kilometers (about 5,000 miles) of roads across the land-locked nation.
Sata Leadership
"We will continue with Sata's style of leadership without fear or favor," he told a rally in Kitwe on Sunday, speaking in the Bemba language. "We shall deal with the investors that ill-treat workers and if they decide not to abide by the law we shall chase them back to their countries. But before sending them away we shall talk to them."
Hichilema supporters say that as an economist he's best equipped to promote growth and tame inflation, which was 7.9 percent last month, down from a three-year high of 8.1 percent in November
"Inflation is high, the cost of living is high, corruption is worse," said 39-year-old Chrispin Sakulanda, who last year accepted a voluntary retrenchment package from Konkola Copper Mines, where he was a blasting officer. "Look at the roads, look at the garbage."
A Lungu victory would probably improve the business environment, said Rohm at Investec.
"I think his election would bring political continuity and more confidence in the market," Rohm said. "Lungu from the Patriotic Front winning would be a good outcome for Zambia and would provide more confidence in the market."
The turmoil inside the ruling party may be enough to cost it the election, said Neo Simutanyi, director at the Centre for Policy Dialogue, based in Lusaka, the capital.
"There is a high prospect of PF losing power," he said.
Before it's here, it's on the Bloomberg Terminal.
LEARN MORE