Who's Excited About Lindsey Graham Flirting With a Presidential Run?
The South Carolina senator is exploring whether he has a "viable path" to become president.
By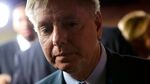 Feel the excitement?
South Carolina Senator Lindsey Graham is looking into whether he has enough popular support for him to mount a credible run for the White House, he said Sunday on Meet the Press after host Chuck Todd asked Graham about reports that he had begun polling.
"We're not polling, but we set up a testing-the-waters committee under the IRS code that would allow me to look beyond South Carolina as to whether a guy like Lindsey Graham has a viable path," the Republican said.
While Graham is a familiar face on the political talk show circuit, his name doesn't show up in many 2016 polls. A CBS News poll released Sunday that asked voters which candidates they wanted to see run did not list Graham, and the RealClearPolitics' poll of polls for the prospective 2016 field is also absent of Graham. In fact, one would be hard pressed to find a single survey that does include Graham in the mix, including a poll up at the Republican National Committee's website.  
In a Republican primary, Graham would no doubt be criticized for his past willingness to work with Democrats on issues ranging from climate change to immigration reform.
"If the Republican Party cannot muster the political courage to deal with the DREAM Act children in a fair and balanced way after we secure our border, that says a a lot about the Republican Party's future regarding the Hispanic community," Graham told CNN in 2014. "I don't believe most Americans would fault the Republican Party if we allowed children who have been here since they're babies to assimilate into society with a pathway to citizenship after we secure our borders."
A county GOP group even censured Graham last year, ostensibly for not being conservative enough, though the senior senator fended off primary challengers who ran to his right as he sought re-election.
One Republican who is bullish on seeing the former Air Force lawyer run for president in 2016 is his close friend, Senator John McCain. 
"My illegitimate son Lindsey Graham is exploring that option," McCain joked last week. "I am strongly encouraging Senator Lindsey Graham, particularly with the world the way it is today."
Whether there is room for another moderate Republican in a field that could include Jeb Bush, Chris Christie, and Mitt Romney, however, remains to be seen.
Some observers are scratching their head at the notion that Graham could enter the race. "In what possible universe does he think he'd mount a viable presidential candidacy, especially amid a crowded, talented field?" wrote Guy Benson at the conservative site Hot Air on Thursday. "If such a path exists, I just don't see it."
Graham told viewers to stay tuned: "I don't know where this will go, but I'm definitely going to look at it."