This Clock Uses Soviet-Made Nixie Tubes to Tell Time
Steampunk art you'll actually want to display
By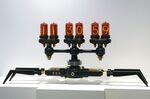 Unless you were a computer scientist in the 1950s, you might not know about Nixie tubes (aka cold cathode displays). They're essentially neon numeric displays housed in a vacuum tube-like enclosure and were one of the earliest ways for digital devices to give users feedback. They've since become serious collectors' items and can sell for hundreds of dollars a piece—or almost $30,000 when worked into limited-edition clocks sold by Geneva's M.A.D. Gallery.
The project for these clocks, dubbed Nixie Machines, started when German artist Frank Buchwald's friend and collaborator Alberto Schileo uncovered a trove of vintage East German Nixie tubes in Bulgaria. They were sitting in a surplus warehouse completely untouched. The tubes themselves are 90mm (3.5 inches) tall and were made by a state-operated Soviet company called RFT sometime in the 1960s. These are some of the largest Nixie tubes ever made, making them perfect for a large sculptural project like this. The steampunk result looks very Wild Wild West (without the bad acting).
Each Nixie Machine has a hefty steel and brass base that conceals the intricate wiring required to control the six Nixie tubes up top. The tubes are filled with neon gas and contain filaments shaped into the 10 basic digits. When the filaments are electrically triggered, the nearby neon glows. 
If it sounds a little archaic, that's because it is. No one has made Nixie tubes at any scale for more than two decades, and since the 1970s their use was relegated almost entirely to the Soviet Union. 
In addition to both 12- and 24-hour time displays, there are both alarm and date functions. Everything is set via a built-in GPS device, so it will always be on accurate local time. The entire Nixie Machine is almost a meter long (3.28 feet) and half a meter high, and more than 350 components are between the electronics and the base. 
One fun quirk: Every five minutes the tubes flash a mix of all the numerals before settling back to the correct time. It's an exciting thing to watch, and visitors to the M.A.D. Gallery swarm the Nixie Machine every time the sequence approaches. This is more than just aesthetic, though—a peculiarity of Nixie tubes is that unused digits can degrade over time, so this little dance helps keep the tubes in working order. A cache of spare tubes is being held for future repairs, but by nature the supply is finite.
M.A.D.Gallery (short for "Mechanical Art Devices") is the art and retail arm of MB&F, the watch brand known for creating space-age wristwear and futuristic music boxes. Buchwald's clock sits alongside other extremely cool toys for slightly eccentric adults: sculptures of adorably morose aliens, conceptual photographs of vintage cars reimagined as flying cars, and mechanical sculptures powered by steam. 
Frank Buchwald's Nixie Machine is priced at 24,800 Swiss francs, including VAT ($28,882—for now), and only 12 will be produced. Clocks available in the dark burnished steel you see here or in a matte brushed steel option (six each). 
Before it's here, it's on the Bloomberg Terminal.
LEARN MORE