Republican Lawmakers Attack Obama Tax Proposal
The GOP digs in its heels ahead of Tuesday's State of the Union speech.
By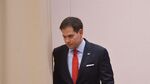 Republican lawmakers on Sunday lambasted President Barack Obama's plan to raise taxes on top earners to finance middle-class breaks and education initiatives.
Senator Marco Rubio criticized the plan, which calls for a portion of $320 billion in new taxes to pay for free community college for many students, as "a 20th century outdated model." 
"He just wants to pour that additional money into the broken, existing system," the Florida Republican said on CBS' "Face the Nation." "A lot of people graduate with AA degrees that don't lead to anything except another four-year degree that may not lead to a job."
Rubio, who is considering a presidential campaign, touted his own proposal, outlined in a new book, for more certification programs that train for specific jobs.
Representative Jason Chaffetz called Obama's proposal "a non-starter," saying more should be done to encourage entrepreneurship.
"We're not just one good tax increase away from prosperity in this nation," the Utah Republican said on CNN's "State of the Union." "We've got to make sure we get a regulatory environment that's predictable, that we bring these tax rates down and that we quit spending this money that we don't have."
White House senior adviser Dan Pfeiffer addressed the Republican criticism on Sunday and previewed a coming clash with the GOP-controlled Congress after Obama delivers his State of the Union speech on Tuesday.
"We're going to push very hard," he said on CBS. "There are legislative proposals in this State of the Union and also a lot of executive actions, where we can help middle class families right now."