China Home Prices Fall in Fewer Cities as Demand Grows
Bloomberg News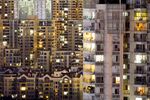 Shenzhen recorded higher new-home prices in December, the first city tracked by the Chinese government to see an increase in four months, after the central bank cut interest rates for the first time since 2012, boosting demand.
New-home prices in the southern city bordering Hong Kong jumped 1.2 percent from November, the first gain since a 0.2 percent increase in April. Prices fell in 65 of the 70 cities monitored and were unchanged in four, the National Bureau of Statistics said in a statement today. That compares with declines in 67 cities in November.
Housing sales rebounded in major cities last month after the central bank in November trimmed borrowing costs and eased curbs on an industry that had become a drag on the nation's slowing economy, unleashing demand from homebuyers. If the momentum is maintained, nationwide home sales may see the first annual increase in 12 months in January, signaling the bottom of the market, according to Barclays Plc.
"In terms of the trend, no doubt home price declines are slowing" as increased sales stabilize prices, Jinsong Du, a Credit Suisse Group AG Hong Kong-based analyst, said by phone. Still, while price gains are possible in other individual cities in coming months, "we don't see that happening in a lot of cities again."
Prices in Beijing and Guangzhou fell 0.2 percent from the previous month, while dropping 0.3 percent in Shanghai, according to today's data. The three cities and Shenzhen, known as "first-tier," are considered to have the strongest housing demand and still maintain home-purchase restrictions after most other cities eased or scrapped such curbs last year.
Sales Slump
Nationwide housing sales slumped 10 percent amid tight credit in the first 11 months of last year, according to government data, forcing developers to cut prices. The statistics bureau is scheduled to release December property sales data on Jan. 20.
The average new-home price in 100 cities tracked by SouFun Holdings Ltd. fell for an eighth consecutive month in December, extending the year's decline to 2.7 percent, according to the nation's biggest real estate website owner.
Hangzhou, in the eastern province of Zhejiang, had the biggest drop on a year-on-year basis with a 9.9 percent decline, according to today's data. Prices in Shenzhen fell 1.3 percent from a year earlier.
Home sales by area climbed 10 percent from November in the 23 major cities tracked by China Real Estate Information Corp., as developers tapped the improved sentiment among homebuyers to clear inventories, according to the advisory firm. Housing sales in Shenzhen jumped 29 percent, trimming the city's unsold apartment stock by 15 percent to 13.5 months of sales, China Real Estate said.
"The property price cycle will turn a corner this year, and will be better than consensus expectation," Hao Hong, the Hong Kong-based head of China research at Bocom International Holdings Co., said before today's data release, citing more favorable mortgage policies following the interest rate cut. "As sales volume picks up, prices should, too."
— With assistance by Dingmin Zhang
Before it's here, it's on the Bloomberg Terminal.
LEARN MORE