China Graftbusters Put Kaisa Cat Among the Pigeons: Opening Line
Matthew Brooker and Michael P. Regan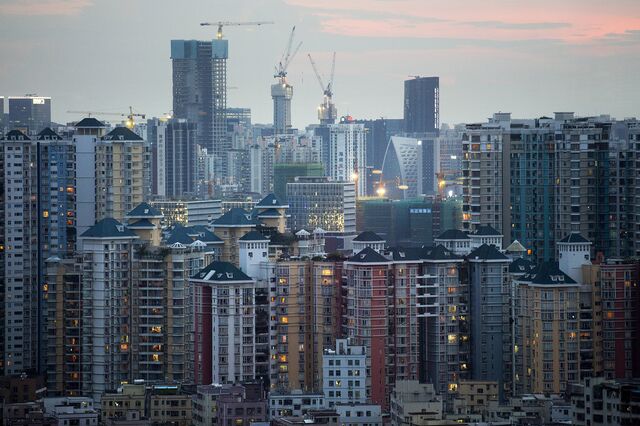 Who'd be an investor in China property bonds right now? Only those with an iron stomach for risk.
The plot is thickening in Shenzhen, the fishing-village-turned-metropolis that borders Hong Kong.
Authorities there restricted sales by local developer Kaisa Group late last year because of "irregularities." Within weeks, the company showed signs of imploding. Its bonds collapsed, the stock fell 47 percent in December and was suspended, top executives left, the company failed to repay a loan and a bond coupon payment was missed. Credit analysts said they had no one left to call at Kaisa.
An isolated case or an early sign of the cracking of China's debt-fueled property bubble? The initial consensus was the former, to judge from the lack of contagion in dollar bonds of other Chinese developers.
That thesis gained some support when the news emerged that Kaisa was being probed over links to a senior official in Shenzhen who's under investigation. So, case closed: Kaisa got in with the wrong people and fell foul of President Xi Jinping's anti-corruption campaign, which has pledged to take down "tigers and flies," in other words both big hitters and the small fry. (Kaisa, even with $2.4 billion of net debt, is no tiger -- probably somewhere between an arthropod and a domestic cat.)
That was then. Shenzhen has since said that it blocked sales at a series of other developers including Fantasia and -- shock -- state-owned China Overseas Land & Investment, whose shares fell as much as 6.9 percent on Friday. It turns out political risk is catching.
How the Shenzhen situation pans out is of keen interest to global investors, as Bloomberg News reports today, with BlackRock Inc., JPMorgan Chase & Co. and Fidelity Investment among money managers who have bought Kaisa bonds.
For now, investors can only ponder why the government chooses to spook overseas investors at a time of fragility, and how much further it's prepared to go. To compound the confusion, Shenzhen yesterday became the first city to record an increase in new-home prices for four months in December. (Were they getting ahead of themselves?)
The Shenzhen government now says its restrictions have been over-interpreted: the city government attempted to ease concerns on Friday, saying that blocked sales for China Overseas and another company were part of "normal processing" and didn't imply wrongdoing by the developers.
We suspected as much. If China Overseas Land is really in trouble, then it's time to stockpile baked beans, get out the wood-burning stove and dust off our copy of The Coming Collapse of China.
This is no Kaisa or Fantasia. China Overseas is a $25 billion state behemoth controlled by the construction ministry in Beijing. If China Overseas can be targeted, then anything's possible.
Then again, this anti-corruption campaign is clearly taking no prisoners (or taking rather a lot, as the case may be). In a world where the nephew of 'Mr Macau' Stanley Ho can be marched out of his casino in a black hood and handcuffs, is anyone safe?
***
U.S. markets are closed to honor the legacy of Martin Luther King Jr. and his dream that people be judged not by the color of their skin but by the content of their character, a message that can never be repeated enough even five score and two years later. Many Americans will spend the day doing acts of public service and reflecting upon Dr. King's legacy of non-violence. Though, to be honest, MLK Day Eve is dedicated to watching grown men in tight pants beat the hell out of each other as the final four National Football League teams left standing attempt to make it to the Super Bowl.
Stock markets ended last week with a 1.3 percent gain for the Standard & Poor's 500 Index and a 0.7 percent advance for the MSCI All-Country World Index in the final session. The rally only served to trim a third straight weekly decline for both indexes and each is still down almost 2 percent in January, so the rebound may be viewed by some investors with more skepticism than UPI's Twitter feed when it announced the Pope had declared the start of World War III. Like many U.S. holidays, the absence of those pesky Americans usually means global markets are pretty calm. The MSCI World Excluding United States Index has posted below-trend volume and an average move of about 0.2 percent over the last five MLK Days. Just be sure to be skeptical of any more tweets claiming the Pope has announced World War III. Because that, ha ha, is obviously nothing but a bunch of ... old news.
**
China reports January foreign direct investment data this morning at 10 a.m. Hong Kong time. Investment rose 10.3 percent in December. Hong Kong posts unemployment data at 4:30 p.m. Recently, South Korea reported a 2 percent drop in producer prices for December, the biggest decline since May 2013. New Zealand's Employment Confidence Index fell to 106.5 in the fourth quarter from 111.5 in the previous three months.
In Europe later today, Rightmove reports on U.K. house prices for January (is that frothy London property market really starting to crack?).
***
- European Union foreign ministers meet in Brussels to discuss policy toward Russia and their response to the terrorist attacks in France. Belgium put troops on its streets to counter a heightened terror threat. - World powers and Iran meet in Geneva as they seek an accord to end their 12-year-old dispute over the country's nuclear work. - The World Future Energy Summit takes place in Abu Dhabi - The European Bank for Reconstruction and Development publishes economic forecast updates for the 35 developing nations from Morocco to Russia in which it invests. - Japanese Prime Minister Shinzo Abe is in the Middle East after arriving in Egypt on Saturday for a five-day visit to the region - Pope Francis drew an estimated 6 million people to a mass in Manila's Rizal Park, breaking the record set by Pope John Paul II in 1995 - Obama proposes new taxes on the wealthiest Americans to ease the middle-class burden. Congress should be fine with that - Swiss franc trade said to wipe out Everest's biggest hedge fund. (Are the ripples over, or just getting started?) - Brazil recalls its ambassador after Indonesia executes a Brazilian citizen, ignoring a plea for clemency - An Israeli airstrike killed at least two Hezbollah commanders in a Syrian area of the Golan Heights - Former U.S. Defense Secretary Leon Panetta says failure to stop Paris attack was an 'intelligence failure' - How Cherif Kouachi became a jihadist under the noses of French authorities - Secret service investigating gunshots outside Biden's Delaware Home - Huge asteroid will 'narrowly' miss Earth - Niger disperses demonstrations after 10 die in Charlie Hebdo protests - Ukrainian government forces recapture of most of Donetsk's airport after intense fighting - Boko Haram stages attacks in Nigeria And Cameroon - North Korean prison camp survivor lied about details in book - Teenager films shark biting his hand. Don't try this at home, kids
***
So Li Ka-shing may be making another foray into European telecommunications. Hutchison Whampoa is in early talks to bid for the U.K. mobile operator O2 for as much as 9 billion pounds ($13.6 billion), the Sunday Times reports, citing people it didn't name. Suddenly, that corporate reshuffle -- with its suspiciously large and unnecessary-looking $7 billion loan -- is starting to take on a different hue.
European telecoms has been both a happy hunting ground and a graveyard for Li. Failure with Rabbit in the 1980s was followed by spectacular success in the 1990s with Orange, sold for more than $40 billion to Germany's Mannesmann, only for much of the profits to be ploughed back into European 3G licences at the height of the technology euphoria.
Is Asia's Warren Buffett saying the time is right in deflation-fear-dogged Europe again? Either way, what won't escape attention is this would be another investment that's not in Hong Kong or China.
***
It's Not-in-Davos week for Hong Kong.
As the global great and good prepare to assemble on the Swiss slopes for the World Economic Forum, Hong Kong hosts its own gathering for financial talking heads to discuss the burning issues of the moment.
The Asian Financial Forum brings together more than 2,400 leaders in government, finance and business today and tomorrow (Bloomberg TV will be there to cover all the action), though can't quite compete with the glamor of Davos.
While Angela Merkel will be rubbing shoulders with Francois Hollande and Jacob Zuma at the World Economic Forum, heads of state are thin on the ground in Hong Kong.
The AFF has to make do with Nobel Prize-winning economist Paul Krugman and ICBC Chairman Jiang Jianqing. Even China's Premier Li Keqiang is bypassing the Special Administrative Region to fly straight to the Alps.
Still, there are compensations for passing up the fondue and apres-ski for downtown Wan Chai -- like a stable exchange rate for example (32 years and counting for that dollar peg). The AFF helpfully includes a value-for-money hotels link on its web site (no word on whether that was added since the francapocalypse). Something you won't find on the Davos site, we daresay.
***
Xiaomi is coming.
After taking China by storm, the mobile-phone manufacturer is taking aim at the overseas market -- and rivals Apple and Samsung -- with the high-end Xiaomi Note, which makes its debut on Jan. 27.
We've never used a Xiaomi phone, but we're sure they're very nice. By all reports, the company and founder Lei Jun inspire fervent loyalty among their fan base in China.
We're just curious, though. So you're the hottest new property in global telecommunications, from a country hitherto better known as a low-cost assembler, and you're looking to break into overseas markets and build a brand. Why would you use a name that's already associated with one of your two bigger competitors?
We don't know who had first claim on the Note. We could try to find out, but we figured we'd just wait for the lawsuits to fly. Isn't that the way they do these things in techland?
***
The first tennis grand slam of the year gets underway today with the Australian Open in Melbourne. Andy Murray is seeded sixth and meets Indian qualifier Yuki Bhambri in his opening match. Murray, who has reached the final three times in Melbourne, is looking for the win that would confirm he still has the grand slam juice after last year's split with coach Ivan Lendl. Should he prevail today, Grigor Dimitrov, Roger Federer and Rafael Nadal will probably stand in his path to the final, while top seed Novak Djokovic is in the other half of the draw. Tall order.
Before it's here, it's on the Bloomberg Terminal.
LEARN MORE