Almost 60 Percent of Republicans Say Romney Should Run: Poll
A CBS News poll finds enthusiasm for the once—and future?—nominee.
By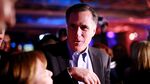 GOP leaders appear skeptical about Mitt Romney's prospects if he seeks the White House for a third time in 2016, but according to a new poll, everyday Republicans' message to the former governor is: Come on in, the water's fine.
Fifty-nine percent of Republicans say they want the former Massachusetts governor to run and only about a quarter, 26 percent, say they do not, according to the CBS News survey.
Half said former Florida Governor Jeb Bush should get in; 40 percent said the same about former Arkansas Governor Mike Huckabee.
Florida Senator Marco Rubio, whom only 26 percent of respondents said they would like to see run, brushed off the results on CBS's "Face the Nation" on Sunday. He said that at this point, the results are a "reflection of name recognition." 
Among Democrats, former Secretary of State Hillary Clinton was met with overwhelming encouragement, with 85 percent saying they would like to see her run. Vice President Joe Biden received 40 percent.
The poll reached 1,001 people by phone from Jan. 9-12. The margin of error was plus or minus three percentage points.