Alibaba-Backed Website Meituan Raises $700 Million in Financing
Lulu Yilun Chen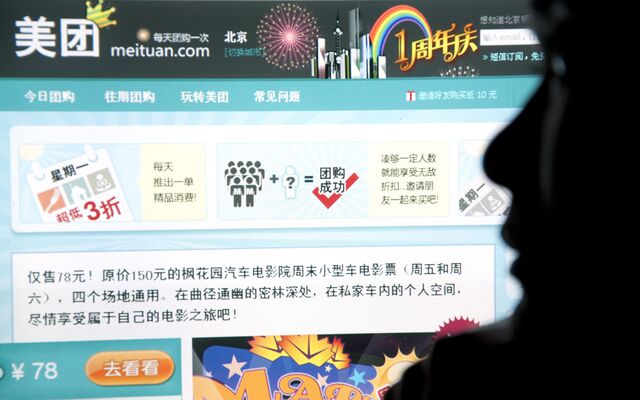 Meituan.com, the Chinese group-discount website backed by Alibaba Group Holding Ltd., raised $700 million from unidentified investors, with Chief Executive Officer Wang Xing saying it's now worth $7 billion.
Transaction volumes are expected to increase to 100 billion yuan ($16.1 billion) this year, and rise to 1 trillion yuan in 2020, Wang said Sunday at a media conference in Beijing. At the end of last year, the figure was 46 billion yuan, he said.
"We will focus on developing business areas where many people use frequently," said Wang, listing hotels, food-delivery and movie tickets. While Wang reaffirmed Meituan's plan to undertake an initial public offering some day, he said the company wasn't focused on one this year or next.
Meituan, which has about 20 million active daily mobile users and is part-owned by Alibaba, is tapping into China's surging middle class, which is seeking deals for entertainment and restaurants. About 90 percent of the platform's transactions are done through Meituan's mobile applications and the company competes against Dianping.com, the Yelp Inc.-like website backed by Tencent Holdings Ltd., Asia's second-largest Internet company.
The company has operations in about 1,000 cities, up from from 300 a year ago, Wang said Sunday. Sales reached 1.9 billion yuan last year, he said.
Meituan, which began offering its services in March 2010, attracted $12 million from Sequoia Capital Operations the same year and a further $50 million in an investment led by Alibaba and Sequoia in July 2011. Groupon has a market value of about $4.9 billion, according to data compiled by Bloomberg.
E-commerce spending by Chinese consumers will reach 3.3 trillion yuan by this year, according to a Bain & Co. report in August 2013. China had more than 630 million Web users as of June. Beijing-based Meituan offers local business-search services that include consumer-generated reviews. Users also can buy coupons and get group discounts.
Before it's here, it's on the Bloomberg Terminal.
LEARN MORE