Cameron Urges U.K. Companies to Pass Oil Savings to Workers
Robert Hutton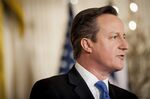 U.K. Prime Minister David Cameron said companies that have seen their operating costs fall with the oil price should look at passing some of the savings to employees.
With an election less than four months away and the opposition Labour Party campaigning on declining living standards, Cameron said he is keen to see wages rise, especially for the lowest earners.
"Obviously I want to see companies' success passed through in terms of wage increases," Cameron told reporters during a visit to Washington. "Falling oil prices are going to benefit a lot of businesses. We want to see those benefits passed through in all the ways they can be."
Cameron's Conservative Party is currently trailing in the polls and Labour leader Ed Miliband has focused his fire on what he calls a "cost-of-living crisis" caused by wages failing to keep pace with inflation.
"A few months of falling world oil prices will not solve the deep-seated problem of our economy not working," Shabana Mahmood, the opposition Labour Party's Treasury spokeswoman, said by e-mail. "This week, the Tories voted against Labour's plans to give the regulator the power to force energy companies to cut their prices when wholesale costs fall."
Before it's here, it's on the Bloomberg Terminal.
LEARN MORE