Anita Ekberg, Alfred Villalobos: Obituaries This Week
Steven Gittelson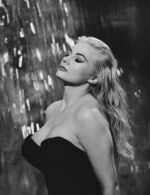 This week's notable deaths included the movie star who first gained attention as Miss Sweden in 1951; the defendant in a scandal involving the largest public pension fund in the U.S.; and the clerk who rose to chief executive officer of Germany's Dresdner Bank AG. Below are summaries of these and other obituaries.
Anita Ekberg, 83. Swedish-born actress who became a sex symbol after dancing in Rome's Fontana di Trevi fountain in Federico Fellini's 1960 film "La Dolce Vita." She appeared in more than 40 movies and won a Golden Globe award as most promising newcomer for her performance in "Blood Alley" (1955). Died Jan. 11 at the San Raffaele Rocca di Papa Hospital in Rome.
Alfred Villalobos, 71. Former California Public Employees' Retirement System board member, whose trial on conspiracy and bribery changes was scheduled to begin in February. He was accused of bribing a Calpers official to make investment decisions that benefitted his clients. Died Jan. 13 of apparent suicide at a Reno, Nevada, gun club.
Bernhard Walter, 72. The CEO of Dresdner Bank from 1998 to 2000, when he resigned after Deutsche Bank AG broke off talks to acquire Dresdner. In 2008, Commerzbank AG agreed to take over Dresdner from Munich-based insurer Allianz SE. Died Jan. 11.
Vernon Mountcastle, 96. Known as the "Jacques Cousteau of the cortex." His discoveries since the 1950s showed how the brain perceives and organizes information. The National Medal of Science winner spent his entire professional career at Johns Hopkins University, where he taught or conducted research from 1948 to 2005. Died Jan. 11 at his home in Baltimore.
Roy Tarpley, 50. College star whose National Basketball Association career was cut short when the league banned him for life for violating its drug policies. He played for the Dallas Mavericks. Died Jan. 9.
Before it's here, it's on the Bloomberg Terminal.
LEARN MORE