War Crimes Prosecutor Opens Probe Sought by Palestinians
Sangwon Yoon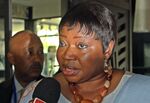 The chief prosecutor of the International Criminal Court opened a preliminary investigation into the Palestinian Authority's accusations of Israeli war crimes and crimes against humanity.
Fatou Bensouda pledged to conduct her examination "in full independence and impartiality" into alleged crimes committed "in the occupied Palestinian territory, including East Jerusalem, since June 13, 2014," according to a statement posted on the court's website on Friday.
Palestinian leaders have declared they accept The Hague-based court's jurisdiction over their lands, prompting retaliation by Israel and condemnation by the U.S. Palestinian officials have called court action a "nuclear option" in their quest for statehood after the breakdown of U.S.-led peace talks.
Bensouda will review whether there are sufficient grounds to pursue a formal investigation. The June 13 starting date includes the latest Gaza conflict, which broke out in July and left more than 1,200 Palestinians and 70 Israelis dead.
Netanyahu: 'Scandalous'
Israel condemned the investigation. "It's scandalous that mere days after terrorists massacred Jews in France, the ICC prosecutor opens a probe against the Jewish state," Prime Minister Benjamin Netanyahu said in a statement e-mailed by his office. He said the decision "makes the court part of the problem and not part of the solution."
The Rome Statute, the international court's founding treaty, lays out no deadlines or timelines for making a decision on a preliminary probe.
"The office gives due consideration to all submissions and views conveyed to the office during the course of a preliminary examination, strictly guided by the requirements of the Rome Statute in the independent and impartial exercise of its mandate," according to the statement.
'Nuclear Option'
Israel this month froze a monthly transfer of about 500 million shekels ($127 million) in sales and customs taxes it collects on behalf of the Palestinians, in response to the Palestinian application to the ICC. U.S. lawmakers have made moves to reduce or halt aid to the Palestinian Authority.
State Department spokesman Jeff Rathke told reporters in Washington on Friday that the U.S. doesn't believe the Palestinians are entitled to join the ICC. He said the prosecutor is conducting a "preliminary examination," not an investigation.
Bensouda, a 53-year-old Gambian lawyer, currently has eight other preliminary probes under way, including allegations of torture committed by U.S. soldiers in Afghanistan and crimes committed by ousted Ukrainian President Viktor Yanukovych and his officials during Nov. 2013-Feb. 2014 protests.
Before it's here, it's on the Bloomberg Terminal.
LEARN MORE