The 'Bro' Show: Obama and Cameron's Unified Front
Showing the world they're on the same team, one friendly jab at a time.
By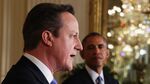 Whenever UK Prime Minister David Cameron comes to Washington, he and President Barack Obama roll out this routine: They poke fun at the UK for long-ago failed efforts to thwart U.S. independence. They laugh about American English versus the Queen's or question the virtues of competing sports customs. Then they proclaim their mutual affection and allied stances.