Supreme Court Takes Landmark Case on Gay Marriage
The court's decision, likely to come in late June, could bring gay marriage to 14 more states.
By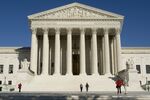 The U.S. Supreme Court agreed to consider legalizing same-sex marriage nationwide, accepting a case that may cap a transformational decade for gay rights with what would be a landmark civil rights ruling.
The court's decision, likely to come in late June, could bring gay marriage to 14 more states and stand alongside the 1967 ruling that said interracial couples had a constitutional right to legally wed. Whatever the outcome, the case will be a defining moment for Chief Justice John Roberts's court.
Both sides urged the Supreme Court to resolve a disagreement among the lower courts. Pro-marriage rulings by four federal appeals courts have helped triple the number of gay-marriage states since 2013. The justices will be reviewing the sole appellate ruling that said states could restrict marriage to heterosexual unions, a decision that applied to Michigan, Kentucky, Tennessee and Ohio.
A Supreme Court decision legalizing gay marriage would be a watershed moment for a movement that as recently as 1996 had support from only 27 percent of the American public, according to a Gallup poll. The latest Gallup survey on the subject, conducted in May, showed 55 percent supporting gay marriage and 42 percent opposing.
A decision against marriage rights might have complicated ramifications. Most of the 36 states that issue gay-marriage licenses do so as a result of court rulings. A Supreme Court decision could nullify those decisions, leaving each state to sort out who can wed while raising questions about the rights of already-married couples.
'Customary' Processes
In the case before the justices, Judge Jeffrey Sutton of the 6th U.S. Circuit Court of Appeals in Cincinnati said changes to marriage laws should come from "the customary political processes," not through the courts.
"When the courts do not let the people resolve new social issues like this one, they perpetuate the idea that the heroes in these change events are judges and lawyers," Sutton wrote in a 2-1 decision.
Gay-marriage advocates say the Constitution protects a fundamental right to wed and bars same-sex couples from being treated differently than heterosexual people.
Gays are being denied "the fundamental freedom and equal right to marry, and their families are deprived of the status, dignity, security and stability that marriage brings," April DeBoer and Jayne Rowse argued in their appeal in the Michigan case. The two are nurses who have adopted three children, including two with special needs.
State Voters
Michigan Governor Richard Snyder and Attorney General Bill Schuette argued in court papers that "marriage is an issue left to voters at the state level."
The Supreme Court hinted at support for gay marriage in a 2013 ruling that struck down part of a law that denied federal benefits for same-sex spouses.
Writing for the five-justice majority, Justice Anthony Kennedy said the Constitution protects gay couples' "moral and sexual choices." He rejected many of the justifications for treating gay unions differently from heterosexual ones.
The ruling created a broad sense that it was only a matter of time before the Supreme Court went the final step. Dissenting Justice Antonin Scalia said an eventual ruling legalizing gay marriage was "inevitable."
The Supreme Court has reinforced that perception by letting court orders requiring gay marriage take effect. In the most significant move, the justices in October let stand three federal appeals court decisions, leading to marriage in 11 new states.
The final decision in all likelihood rests with Kennedy, the court's most frequent swing vote. Though Kennedy often aligns himself with the court's conservative wing, he been a champion of gay rights over the past 20 years, writing all three of the court's most significant rulings.
To contact the reporter on this story: Greg Stohr in Washington at gstohr@bloomberg.net
To contact the editors responsible for this story: Patrick Oster at poster@bloomberg.net Laurie Asseo, Mark McQuillan