Sotheby's Wins U.K. Lawsuit Suit Over 'Caravaggio' Valuation
Jeremy Hodges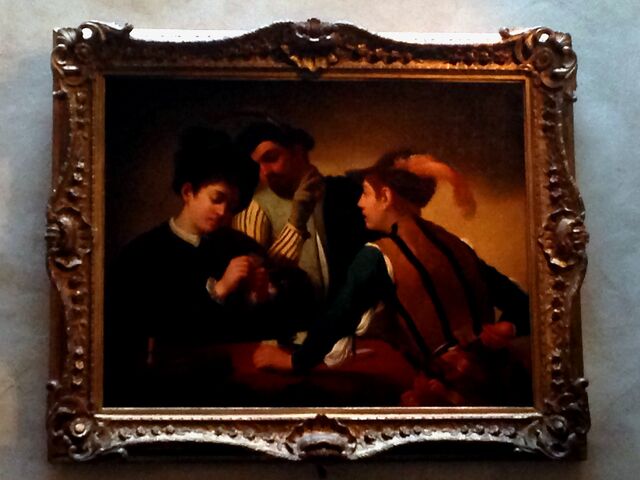 Sotheby's was cleared by a London judge in a lawsuit over the valuation of what may be a 17th-century copy of a Caravaggio painting.
The authenticity of "The Cardsharps" was at the center of a lawsuit against Sotheby's, which sold the painting for 42,000 pounds ($64,000) in 2006 after having declared it a copy by a follower of the Baroque-period artist. The purchaser, the British collector Denis Mahon, later declared the work an original and valued it at 10 million pounds, according to court documents in London.
A descendant of the painting's previous owner -- who bought it for 219 pounds in 1962 -- sued Sotheby's for failing to come to the same conclusion before the auction. While Judge Vivien Rose may not have ruled on who painted the artwork, she did say Sotheby's wasn't negligent.
The auctioneer's "specialists were highly qualified and examined the painting thoroughly," Rose said in her ruling today. "They reasonably came to the view on the basis of what they that the quality of the painting was not sufficiently high to indicate that it might be by Caravaggio."
Michelangelo Merisi da Caravaggio was born in Milan in 1571, subsequently moving to Rome to work as an artist, Rose said in the ruling. About 60 paintings by Caravaggio are thought to exist, she said. His dark, dramatic paintings are coveted by many art collectors.
Sotheby's said in a statement the company was "delighted" with the result following a four-week trial last year that featured testimony from five witnesses and three independent experts.
Mahon, who died in 2011 at the age of 100, was a well-known collector and art historian. He left 58 Italian Baroque-period paintings to public collections in the U.K. "The Cardsharps" wasn't included in the bequest because of authenticity issues.
Lawyers for Lancelot Thwaytes, the descendant of the previous owner, said they had concerns about the approach taken by the judge and were considering an appeal.
"Thwaytes is extremely disappointed with the decision delivered this morning and maintains that Sotheby's failed to spot the painting's potential," law firm Boodle Hatfield said in a statement. "He brought the case following the public announcement that the painting was an autograph replica painted by the hand of Caravaggio; a view which was supported by a number of leading experts."
Before it's here, it's on the Bloomberg Terminal.
LEARN MORE