How to Save Dive Bars From Rent Hikes? Call Them Landmarks
San Francisco lawmakers want to save small businesses and nonprofits by treating them similarly to architectural landmarks
By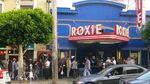 The Roxie Theater has been showing movies in San Francisco's Mission District since 1909. Now the city's longest-running cinema is bracing for a rent hike that threatens its existence. The theater's current lease expires in June, and spiking real estate prices could more than double what it pays, says Isabel Fondevila, director of the Roxie, which operates as a nonprofit.
Landlords are simply trying to cash in during a boom time, Fondevila adds, but there are some enterprises worth saving. "It's one thing to say, this used to be a gas station, and now it's a condo. If you say, this is a chocolate shop, and it used to be a 100-year-old bookstore, that's a little more painful."
It's a familiar story to residents of cities and neighborhoods where commercial rents have risen quickly. In San Francisco, where commercial rents have tripled over the last 15 years, even thriving outfits can struggle to keep up, and the city's lawmakers are looking for a way to help. In October, city supervisor David Campos introduced a law that would treat institutions with deep roots in San Francisco's history as metaphorical cousins to architectural landmarks, creating a registry of legacy businesses and nonprofits and offering small incentives to help them grapple with rising rents. Now, the bill is being rewritten to include greater carrots for landlords who rent to businesses and organizations deemed part of San Francisco's cultural fabric.
"Traditional landmarking laws are ill-suited for things like businesses and nonprofits," says Mike Buhler, executive director of San Francisco Heritage, a local preservation group that helped craft the legislation. "We want to recognize that intangible resources have great significance to the history of San Francisco, and are really emblematic of the city's heritage."
Buhler, whose organization has traditionally focused on preserving architectural structures, says he got interested in protecting local businesses in 2012 after Sam Wo Restaurant, a century-old Chinatown haunt, was forced out of its longtime location. In the years since, the organization has compiled a list of more than 100 bars and restaurants, including Café du Nord and the Gold Dust Lounge. Eventually, he says the registry could be used to offer larger tax breaks and special financing to businesses that want to buy their own commercial space.
But it's one thing for preservationists to compile a list of old watering holes, and another for city officials to enter debates over which dive bars deserve to be saved. Still, the San Francisco proposal isn't without precedent. In London, city government has encouraged residents to list local pubs as "assets of community value" and requires building owners to accept bids from community groups before they sell a pub building. In Paris, a city planning agency has been buying up property so it can rent to bookstores and cafes at rates they can afford.
Such laws are a harder sell in the U.S., says Ned Kaufman, a New York-based preservationist who has argued for decades that cities contain culturally important places that don't look like architectural landmarks. "We have a very strong ideology of progress and change and, frankly, real estate development," he says. "There's a sense that making something new is heroic and takes energy and investment."  
San Francisco offers U.S. preservationists a useful test case. In addition to soaring commercial rents, a strong base of local activists remain committed to protecting San Francisco's existing residents from a rush of new arrivals—an effort that has included the well-publicized campaigns against private bus lines run by Google and other tech giants, as well as a 2013 law that placed restrictions on where chain businesses can set up shop.
Nate Allbee, legislative aide to the supervisor who introduced the bill, says that political support for the law is so strong that legislators delayed a committee vote last week in order to expand its scope. The original version of the San Francisco bill would have waived the transfer tax—usually 1 percent or 2 percent, Buhler says—for legacy businesses and nonprofits that buy their buildings. Now lawmakers hope to identify incentives that keep legacy businesses in their buildings. A new law could be ready for a vote next month, says Allbee. A ballot initiative, which would be necessary for larger-scale changes to the tax code, is another possibility. "There's the political will to do this," he says.
The proposal would help struggling businesses, but it's only an intermediary step, says Pete Mulvihill, co-owner of Green Apple Books, an independent bookstore in San Francisco's Richmond District. The store, founded in 1967 by a previous owner, occupies 8,000 square feet of retail space split between two adjacent buildings. Both leases expire in 2019, says Mulvihill, making the city's booming real estate market feel like an existential threat. "The registry is interesting as a starting point," he says, because it gives some acknowledgement that older businesses are worth saving. "If there were tax breaks or some kind of rent control, that's what would be really helpful."