Rick Perry Delivers Final Public Speech as Governor
The former Texas governor is focusing on foreign policy as he carves out a White House run.
By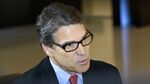 CORONADO, Calif.—Texas Governor Rick Perry leaves office in four days, packing up his belongings from the state governor's mansion after 14 years. In what he said was his final public speech as governor, he made it pretty clear that he wants that next job to be in the White House, and he also made clear that he sees an opening on foreign policy.