Rick Perry Delivers Final Public Speech as Governor
The former Texas governor is focusing on foreign policy as he carves out a White House run.
By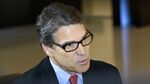 CORONADO, Calif.—Texas Governor Rick Perry leaves office in four days, packing up his belongings from the state governor's mansion after 14 years. In what he said was his final public speech as governor, he made it pretty clear that he wants that next job to be in the White House, and he also made clear that he sees an opening on foreign policy.
"I know this will surprise you, but I've been thinking a lot about 2016," Perry said Friday during a speech to the Republican National Committee, which is holding its winter meeting at a beach resort outside of San Diego.
Perry, 64, focused on the economic accomplishments in his state, proudly pointing out that one-third of all private sector job creation in the U.S. over the past decade has taken place in Texas. But the governor focused about half of his 15-minute speech on foreign policy, saying President Barack Obama left Iraq "vulnerable to a terrorist resurgence," criticizing him for not attending a demonstration in Paris following the recent terrorist attacks, and lamenting that the president hasn't done enough to support Israel.
Perry suggested that he would bring "moral clarity" to U.S. foreign policy.
"What is at stake is the preservation of Western values," Perry said. "Without the confidence in the truth and the goodness of our values, the great moral inheritance of our culture, how are we going to deal with the falsehood of theirs?"
Gesticulating with his hands and tapping his personal copy of the U.S. Constitution, Perry said the federal government has failed to secure the U.S. border and suggested the administration ceded some of its duties to Texas during the Ebola scare last year.
"Maybe the president just wanted to give me a head start on doing federal duties," Perry said.