Norway's Oil Crisis Talks Lead to Stimulus Pledges If Needed
Saleha Mohsin and Julia Gronnevet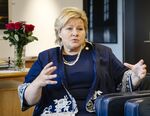 Top policy makers in western Europe's biggest oil producer underscored their commitment to providing stimulus should the economy need it.
For now, Norway is strong enough to weather the fallout of plunging crude prices, Prime Minister Erna Solberg said today after meeting with central bank Governor Oeystein Olsen and Finance Minister Siv Jensen. It was the first set of crisis talks between the government and central bank since 2008.
"We're in an economy that has to change because there's less pull from oil and gas activities and we need to find a 'new normal' and get growth in other businesses," Solberg said in a separate interview following the press conference. "We didn't have any discussions or put any pressure regarding the policy instruments at the central bank."
A 58 percent drop in Brent crude since a June high is endangering an economy that relies on fossil fuels to generate more than one-fifth of its output. The krone has lost 25 percent against the dollar since June. While that's hurt crude producers including Statoil ASA, it has brought relief to non-oil exporters including Yara International ASA and Norsk Hydro ASA.
The krone pared losses following the press conference, strengthening 0.2 percent to 8.797 per euro as of 1:29 p.m. in Oslo.
Norges Bank in December cut its main rate for the first time in almost three years and signaled a 50-50 chance for another cut early this year, saying Norway risks a "severe downturn" as oil prices slumped. The cut followed comments from Jensen, who said late last year it was up to the central bank to protect Norway from the shock of lower oil prices.
Nothing 'Dramatic'
Olsen said today there was nothing "dramatic" happening to the economy and that he would return with a fuller assessment in March.
"The government has been under pressure to release a fiscal package to help with the weakness in the oil-related sector," said Erik Bruce, senior economist at Nordea Bank AB. "This was a way to say that they take the demands seriously but that there is no need for that right now. Olsen was clearly saying that there's no need for it."
Jensen also said there is no "crisis" and that monetary policy and the krone will act as buffers to absorb any shocks from falling oil prices.
"We're facing a shift, that's a shift that we have known will come for quite some time," she said in an interview. "We estimated that in the budget for this year, and the prognoses haven't changed substantially after the launch of the budget."
The government has already pledged to spend a record amount of the nation's oil wealth -- or about 6.4 percent of GDP -- on expenditure this year to support the economy.
Before it's here, it's on the Bloomberg Terminal.
LEARN MORE