Indonesia Execution to Cause Brazil Commotion, Rousseff Says
Raymond Colitt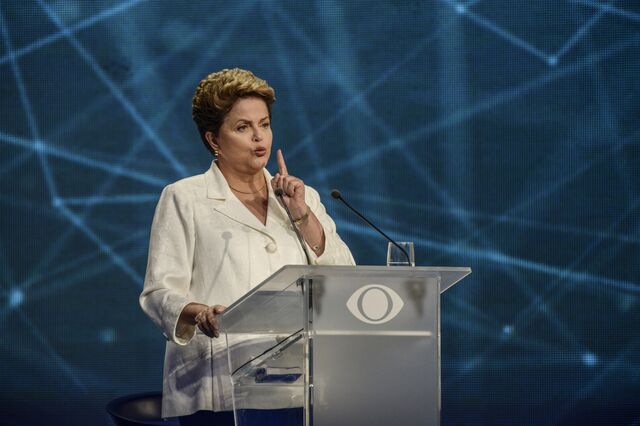 Indonesia rejected a plea by Brazil's President Dilma Rousseff to spare two Brazilians condemned to death for drug trafficking in a dispute that she said threatens to sour relations between the two countries.
Indonesian President Joko Widodo refused Rousseff's personal appeal by telephone to spare Marco Moreira and Rodrigo Gularte, who face "imminent" execution, according to a statement published Friday by Brazil's presidential press office in Brasilia. They would be the first Brazilians to be executed by a foreign government, according to newspaper Folha de Sao Paulo.
Widodo told Rousseff he couldn't commute the sentence because all judicial proceedings had followed Indonesian law and the Brazilian citizens had been granted due process, according to the statement. The decision "will generate commotion in Brazil and have a negative repercussion for bilateral relations," Rousseff told Widodo.
The executions will be carried out by a firing squad, according to a report by Human Rights Watch.
Indonesia's Ministry of State didn't answer a telephone call made after business hours in Jakarta. The Indonesian Embassy's press office in Brasilia didn't immediately respond to requests made by phone and e-mail for comment on the date of the execution and its potential impact on relations with Brazil.
Hoping for Miracle
Indonesia's government said in December it would put to death 64 drug convicts. The execution on Jan. 18 of six for drug-related offenses would be a setback to the new government's promise of improving respect for human rights, Amnesty International said in a statement Jan. 15.
"Let's hope a miracle may reverse this situation," Marco Aurelio Garcia, Rousseff's foreign policy adviser, told reporters in Brasilia on Friday.
Australian Prime Minister Tony Abbott also appealed to Widodo to spare two Australian men from execution, the Australian Broadcasting Corp. reported on Saturday in Sydney.
Myuran Sukumaran and Andrew Chan were among nine Australians arrested on the Indonesian island of Bali in 2005 for attempting to carry eight kilograms (17 pounds) of heroin through the airport. The group became known as the Bali Nine.
Sukumaran isn't due to face a firing squad on Jan. 18, though he is one of 16 prisoners on death row whose plea for clemency has been denied by Widodo, the ABC said. The prospects of a reprieve for Chan may be slim after Widodo indicated he wouldn't show mercy for any other prisoner with drug convictions, the ABC reported.
Before it's here, it's on the Bloomberg Terminal.
LEARN MORE