IEA Sees Oil-Price Recovery; Cuts 2015 Non-OPEC Output Estimate
Grant Smith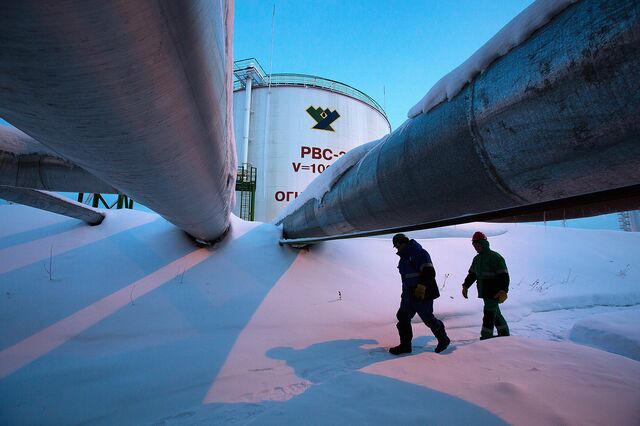 Non-OPEC oil producers will increase output this year at a slower rate than previously forecast, aiding a recovery in crude prices, the International Energy Agency said.
The adviser lowered its non-OPEC supply growth estimate by 350,000 barrels a day, the first cut since the 2015 forecast was introduced in July. Half the cut is from Colombian output while effects on U.S. production are so far "marginal," it said. The slow-down in non-OPEC output will lead to a "rebalancing" of currently over-supplied global markets in the second half, reviving prices, the agency said.
"Companies have been taking an axe to their budgets, postponing or cancelling new projects," the Paris-based IEA, which advises 29 nations on energy policy, said in its monthly market report. "A price recovery, barring any major disruption, may not be imminent, but signs are mounting that the tide will turn."
Oil prices have collapsed almost 60 percent from last year's peak, as the Organization of Petroleum Exporting Countries resolved to defend market share against the fastest U.S. production in more than three decades. OPEC's decision is testing the ability of rival producers to keep pumping as prices slump to a 5 1/2-year low. Brent futures traded near $49 a barrel today.
Colombia Reduced
Non-OPEC supply still will increase 950,000 barrels a day this year to 57.5 million a day, the IEA said. Colombia's supply will be about 175,000 lower than previously anticipated, about the same as Canada and the U.S. combined.
Any stimulus for demand from lower prices remains "elusive" because of underlying weakness in the global economy, said the agency, which kept its global oil consumption forecast for 2015 unchanged. The surplus in oil inventories in developed economies in December was the highest for the time of year since 2010, its preliminary data show.
A higher level of supply from OPEC will be required than previously expected because of slower non-OPEC growth, according to the report. The organization will need to provide 29.2 million barrels a day this year, about 300,000 a day more than last month's forecast. That's still about 1.3 million a day less than its 12 members pumped in December, when Iraqi supplies rose to a 35-year high of 3.7 million barrels a day.
Production from Saudi Arabia, OPEC's biggest member, remained steady in December at 9.6 million barrels a day, the IEA said.
OPEC itself reduced estimates for the crude it will need to provide in 2015 by 100,000 barrels a day to 28.8 million a day in its monthly market report yesterday.
Before it's here, it's on the Bloomberg Terminal.
LEARN MORE