France Punishes Terror Comments as Nation Backs Charlie Hebdo
Gregory Viscusi and Helene Fouquet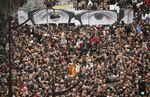 The French police posted a warning on Twitter: "Don't Forward Malicious Messages."
If you do, you may face charges of "supporting terrorism," punishable by up to seven years in jail and a 100,000-euro ($115,195) fine.
More than 100 people face charges and prison time across France for comments supporting the attacks that claimed 17 lives last week, or for backing violent acts by radical Islamists under new laws that were strengthened last year. The crackdown in some ways conflicts with the sentiment expressed in Sunday's demonstrations across France, when almost four million people marched to honor the slain journalists at the satirical magazine Charlie Hebdo and support freedom of expression.
The apparent contradiction stems from French law, which outlaws hate speech but has no legislation against blasphemy.
"We will end up with inconsistent decisions that will leave a lot of people dissatisfied," said Christopher Mesnooh, a lawyer who belongs to both the Paris and New York bars. "Blasphemy may not be a crime, but many Muslims can't understand how the mocking of Muhammad isn't seen as encouraging racism."
Paris courts today sentenced three men to up to 15 months in jail for publicly speaking in favor of terrorism or terrorists. Another man is being held in custody in the eastern city of Strasbourg for the same offense. French comic Dieudonne was briefly arrested and now faces charges for posting "Je Suis Charlie Coulibaly" or "I am Charlie Coulibaly," on his Twitter account. Amedy Coulibaly was one of the gunmen in the attacks. He killed four hostages at a kosher grocery.
'Exceptional Measures'
France has been on the highest security alert level since last week's attacks in and around Paris by three gunmen, who were later killed by police.
"Racism, anti-Semitism and defending terrorism are criminal offenses," Prime Minister Manuel Valls said in a speech in parliament Jan. 13. He said France will take "exceptional measures' to combat terrorism.
The two gunmen who attacked Charlie Hebdo said their actions were meant to ''avenge'' the prophet, a popular subject for cartoons at the magazine.
Up to 60 people had been detained for defending the attacks, government spokesman Stephane Le Foll said Jan. 14. More than 40 school children are under surveillance for disrupting the minute of silence observed in French schools on Jan. 9 or showing support for attacks, Education Minister Najat Vallaud-Belkacem told parliament on Jan. 14.
Criminally Offensive
There have been arrests for criminally offensive speech in Lille, Nice, Toulouse, Strasbourg, Tours, Orleans and the Paris region. A drunken man who spit at police officers in Paris and said he supported the Charlie Hebdo killings was sentenced to 14 months in prison.
The interior ministry didn't respond to e-mail or telephone messages on whether any of those arrests had been for anti-Muslim acts or statements.
About 90 crimes against people of Muslim faith have been committed since Jan. 7, Le Parisien reported, basing its count on information collected across France. That compares with 110 such acts or speech in the first nine month of 2014.
French ministers will hold a meeting on Jan. 21 to adopt security measures to better combat terrorism, and the next day will hold another meeting to discuss education and urban policy measures to provide ''longer term responses,'' Le Foll said.
Defending Terrorism
France's 1881 law on press freedom guarantees freedom of expression, but included language to prohibit the incitement of political violence. The law also eliminated the notion of blasphemy.
Laws against defending terrorism were tightened last November, removing it from the press law and enshrining it in the criminal code. ''Defending terrorism'' in public is punishable by five years in jail and a 75,000-euro fine, rising to seven years in prison and 100,000 euros when online.
In 2009 the government created a police unit to trace hatred and violent expressions on the Internet. The group -- dubbed ''Pharos'' -- reported over 13,000 messages on the web since Jan. 7 showing support for the attacks, Interior Minister Bernard Cazeneuve said.
France's authorities have punished terror-related or anti-religious speech in the past.
Bardot, Dylan
In June 2008, actress Brigitte Bardot was fined about 16,000 euros after writing a letter to then Interior Minister Nicolas Sarkozy saying that Muslims in France ''destroy us, destroy our country by imposing their customs.''
Singer-songwriter Bob Dylan was also placed under judicial investigation in France in 2013 for allegedly provoking ethnic hatred of Croats. The case was dropped in 2014.
While the U.S. doesn't have France's hate speech laws, speech in America tends to curtailed by ''taste and the prevailing political attitudes," said Mesnooh, the lawyer.
"In any country, the U.S. included, freedom of expression has its limits," he said.
Before it's here, it's on the Bloomberg Terminal.
LEARN MORE