Global Woes Pose Main Threat to U.S. Economy, Fed Official Says
Alison Vekshin and Steve Matthews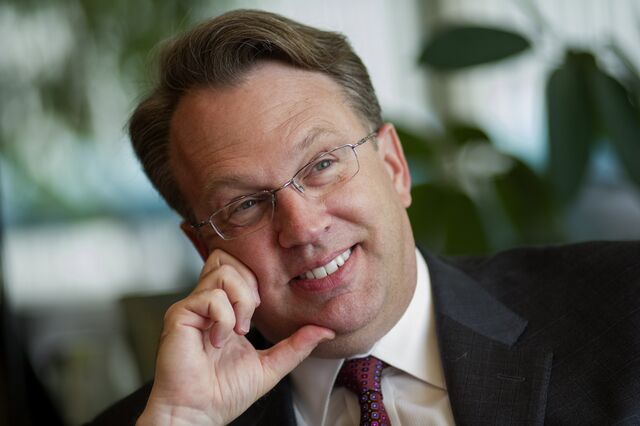 Global weakness poses the main threat to the outlook for an otherwise robust U.S. economy, a top Federal Reserve official said today, highlighting a headwind that investors bet may delay Fed rate increases until late this year.
"Weakness abroad is trimming some from my forecast" for U.S. growth, Federal Reserve Bank of San Francisco President John Williams told reporters after a speech at the regional Fed bank. "The big negative on the U.S. economy and financial markets is abroad."
He spoke on a day of economic data that continued to send mixed signals for policy: consumer confidence rose to an 11-year high, while a measure of inflation dropped by the most in six years. Stocks climbed, snapping a five-day slide in the Standard & Poor's 500 Index, as energy shares rallied with the price of oil.
Fed officials are closely watching expectations for future inflation, which have declined in recent weeks. St. Louis Fed President James Bullard told a Chicago event today that a central bank "must protect its credibility with respect to its inflation goal."
Williams, a voting member of the policy-setting Federal Open Market Committee this year whose views often are close to those of Chair Janet Yellen, said he's in no hurry to raise the central bank's key interest rate, which has been held near zero since late 2008.
"There's no need to rush to raising rates," he told reporters. "At the same time, we want to make sure that we appropriately act in a way that we don't get behind the curve."
He said it would be appropriate for the Fed to start considering raising interest rates in mid-year, based on his forecast for U.S. growth of between 2.5 percent and 3 percent, with inflation rising toward the Fed's 2 percent goal.
Prices Decline
Consumer prices declined by 0.4 percent in December compared with the month before, a Labor Department report showed. From a year earlier, prices rose 0.8 percent.
As measured by the Fed's preferred gauge, the personal consumption expenditures price index, prices rose 1.2 percent from a year earlier in November. The index hasn't exceeded the Fed's goal since March 2012. The core measure, which strips out volatile food and energy prices, increased 1.4 percent in November.
Minneapolis Fed President Narayana Kocherlakota, in a speech in Minnesota, repeated that markets show "troubling signs" the Fed is losing credibility on its inflation goal, and that officials shouldn't lift rates this year.
Treasury Yields
The benchmark U.S. 10-year note yield rose 12 basis points, or 0.12 percentage point, to 1.84 percent as of 5 p.m. New York time, according to Bloomberg Bond Trader data. The yield declined 11 basis points this week and touched 1.70 percent, the lowest since May 2013.
Policy makers next meet Jan. 27-28. The FOMC said last month it will be "patient" in raising rates, with Yellen explaining that meant a move was unlikely until at least the end of April.
"Maybe the data will push us a little bit further one way or the other," Williams said. "I'm not making a prediction of what the Fed will do. But I think the good news here is the economy has improved a lot, we're in a pretty good place."
Williams, 52, said the outlook for inflation was more important to him than the impact on growth of weaker global demand, and he played down the decline in December U.S. consumer prices.
"Real incomes are growing faster. Your paycheck is worth more. You can buy more gas," he told reporters, saying that a large part of the drop was a result of lower energy prices, which would act like a tax cut for U.S. households.
Williams said lower oil prices and the stronger dollar were damping the cost of U.S. imports and this would subdue near-term inflation, while arguing the impact wouldn't linger.
Before it's here, it's on the Bloomberg Terminal.
LEARN MORE