Chris Christie to Everyone: 'Relax'
It may seem as if the presidential election has already begun, but New Jersey's governor appears content to take his time.
By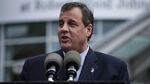 New Jersey Governor Chris Christie is traveling Friday to the early caucus state of Iowa to celebrate that governor's inauguration. Earlier this week, he was in South Carolina–another early presidential voting state–to do the same. He's talking to party leaders and donors behind the scenes to make sure Jeb Bush and Mitt Romney don't squeeze him out before he can start.  And he just gave a State of the State address broadly seen as a 2016 warmup. 

But his message to speculators in his Thursday night appearance on a monthly radio show? "Relax."

Downplaying the notion of an inevitable conflict with Bush, the former Florida governor, and artfully dodging questions about PAC planning, Christie instead said on the program on New Jersey 101.5 FM that, "What I've told everybody, supporters of mine, potential donors of mine, staff, is 'Relax, no one's voting for another 12 1/2 months.'"
That jibes with what the governor told a group of South Carolina Republicans:  That he would make no announcement until the last new Republican governor is sworn in on Jan. 21.
On his radio show, Christie also sought to tamp down controversy that could dog him. He dismissed suggestions that his love for the Dallas Cowboys football team and affection for owner Jerry Jones translated into impropriety in the form of a Port Authority contract awarded to a company owned by Jones, saying the story was promoted by "partisan hacks."

"This came from Hillary Clinton's PAC, okay, so you know, facts don't get the way of a good story from these folks," Christie said. "Jerry Jones and I first met in September of 2013," months after the contract award, and when Jones did get the contract "I didn't know it," Christie said.
Even if he'd known the name of the company that won the contract, Christie said, "I wouldn't have even known that Jerry Jones had anything to do with the company."