China Suspends 3 Big Brokers From Adding Margin Accounts
Bloomberg News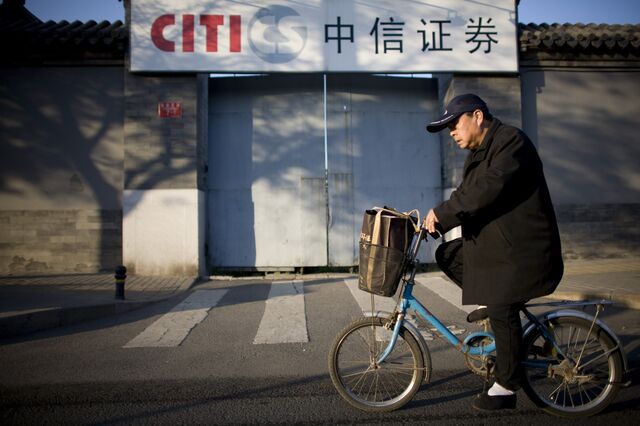 China suspended three of the nation's biggest brokerages, including Citic Securities Co. and Haitong Securities Co., from adding margin-finance and securities lending accounts for three months following rule violations.
Guotai Junan Securities Co. was also suspended, the China Securities Regulatory Commission said on its microblog Friday. The firms let customers delay repaying financing for longer than they were supposed to, the regulator said, without giving more details.
Regulators may be concerned that stock gains, partly driven by margin financing, are too rapid, according to Hao Hong, a strategist at Bocom International Holdings Co. in Hong Kong. The move comes after the Shanghai Composite Index surged 63 percent in six months and brokers including Citic and Haitong announced plans to raise more money to lend to clients.
"Brokerage shares are likely to get hit," Hong said. "After all, margin financing is one of the reasons for people to be bullish on brokerage stocks, and these stocks have run particularly hard."
Citic and Haitong, the nation's biggest brokers by market value, have both announced plans for share sales that will help fund an expansion of businesses including margin financing. Those two and Guotai Junan were the three largest by assets in a 2013 ranking by the Securities Association of China.
Denting Sentiment
"The regulators are doing this to cool down the stock market," said Castor Pang, head of research at Core-Pacific Yamaichi in Hong Kong. "Stock market sentiment will definitely go down."
Outstanding margin loans totaled 1.08 trillion yuan ($174 billion) as of Jan. 13, up from about 400 billion yuan at the end of June last year, according to China Securities Finance Corp. data. Leveraged funds, including margin loans offered by brokerages, are "stirring up trouble" and contributing to stock volatility, the state-run Xinhua News Agency said in a Dec. 11 commentary.
The regulator punished nine other securities companies for offenses including allowing unqualified investors to open margin finance and securities lending accounts, it said. Risks in the margin-loan businesses are manageable, with no major offenses uncovered in on-site audits of 45 brokerages last month, the regulator said, pledging to keep a tight leash on the business.
— With assistance by Aipeng Soo
Before it's here, it's on the Bloomberg Terminal.
LEARN MORE