BlackBerry CEO Denied Samsung Deal Reports, Minister Says
Christopher Donville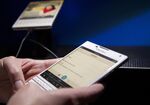 Canadian Industry Minister James Moore said he has been assured by BlackBerry Ltd. Chief Executive Officer John Chen that there's no substance to reports that Samsung Electronics Co. had approached the company about an acquisition.
"I talked to him yesterday and he said it's a rumor and that there's no truth to it," Moore said in an interview Friday in Vancouver.
Reuters reported this week that Samsung approached Waterloo, Ontario-based BlackBerry with an initial takeover offer of $13.35 to $15.49 a share, citing an unnamed person and documents. BlackBerry and Samsung both put out statements denying the report.
BlackBerry rose 1.4 percent to $10.25 at 1:12 p.m. in New York, above its closing price on Jan. 13 before the Reuters report, valuing the smartphone marker at about $5.4 billion.
Foreign acquisitions of Canadian companies for more than C$344 million ($287 million) must be vetted by the government. Since 2009, they can also face a national security review, largely by a secret committee of senior officials that includes the heads of two spy agencies.
In October 2013, the government rejected Manitoba Telecom Services Inc.'s sale of its Allstream unit to an investment firm co-founded by Egyptian billionaire Naguib Sawiris, citing security concerns. The government didn't provide details on what those concerns were.
Moore said each deal is considered on its own merits and a BlackBerry sale wouldn't be prejudged simply because of the company's role in securely managing government devices.
Before it's here, it's on the Bloomberg Terminal.
LEARN MORE