America Says 'I Love You' to France with a Song by James Taylor
Having missed the March, John Kerry tried to make up with music.
By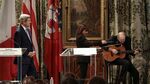 Here's one way to make a grand apology. To make up for America skipping last week's Paris Unity march, Secretary of State John Kerry had James Taylor sing his 1971 hit "You've Got a Friend," to the French.