America Says 'I Love You' to France with a Song by James Taylor
Having missed the March, John Kerry tried to make up with music.
By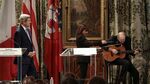 Here's one way to make a grand apology. To make up for America skipping last week's Paris Unity march, Secretary of State John Kerry had James Taylor sing his 1971 hit "You've Got a Friend," to the French.
As Bloomberg News reported, Kerry was in France to pay his respects to the victims of the attacks on the staff of Charlie Hebdo magazine and a Paris market, and to meet with French President Francois Hollande and Foreign Minister Laurent Fabius. He laid wreaths at the sites of the attacks and, as promised, shared "a big hug" with Hollande.
The Taylor song session couldn't help but raise eyebrows. "James Taylor, higher profile than the ambassador to France," tweeted Time magazine's Zeke Miller (the U.S. ambassador attended Sunday's rally). "This can't be real," tweeted Jennifer Bendery of the Huffington Post.
In the clip Kerry—the boyfriend-who's-really-really-sorry-he-forgot-your-birthday-again of international diplomacy—fidgets in the corner as Taylor plays before a small audience. About a minute into the clip, Anne Hidalgo, the mayor of Paris, realizes the sound is off and holds up a microphone for the remainder of the song.
In Kerry's defense, the applause for Taylor is very strong. At the same time, this isn't even the first time the U.S. has used James Taylor diplomacy. As the Telegraph noted, in 2011 Taylor performed the same song for Angela Merkel at the White House.