Work Stops at Manhattan's 432 Park Ave. Condo Tower
Oshrat Carmiel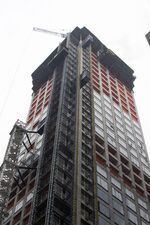 Work was halted on a luxury-condominium project in midtown Manhattan after an 8-foot (2.4-meter) piece of guardrail from a construction elevator fell to the street from the 81st floor.
The New York City Department of Buildings ordered all work stopped at 432 Park Ave., the 1,397-foot tower being built by Harry Macklowe and CIM Group, Alexander Schnell, a department spokesman, said in an e-mail. The external elevator, or hoist, was inspected Thursday evening by the city, and work will resume Friday, said Joey Arak, a spokesman for the development, where a penthouse is under contract for $95 million.
The site, between 56th and 57th streets, was silent on Thursday afternoon. A red crane stood still behind black plywood barriers. The construction elevator on the exterior of the building, used to transport workers and materials, was parked at the top floor.
The building, slated for completion this year, is the tallest residential tower in the Western Hemisphere, according to the property's website. Amenities include private wine cellars guaranteeing a climate no warmer than 57 degrees Fahrenheit, and a catered dining room in which residents must purchase at least $1,200 in meals annually, according to plans filed with the New York State attorney general's office.
Before it's here, it's on the Bloomberg Terminal.
LEARN MORE