Why Draghi's Name Still Hovers in Italian Presidency Chat
Alessandro Speciale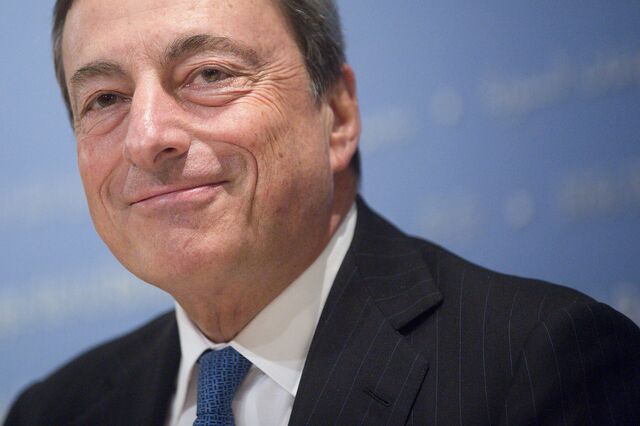 No matter how often Mario Draghi denies it, the Rome-born chief of the European Central Bank can't help finding his name linked to another elite office that's become available back home.
Lists of potential successors to Italian President Giorgio Napolitano, who resigned yesterday at age 89, rarely fail to mention Draghi. The head of state's clout has grown in recent years as a mediator in Italy's fractious politics, a role that would suit a successor with stature such as the ECB president.
Draghi has said that while it would be an honor to move to the Quirinale palace -- abode of popes and kings in past centuries -- on one of Rome's famed seven hills, he intends to stick with his job in Frankfurt. He's making history at the ECB with a series of unprecedented measures that could extend to announcing government-bond purchases as soon as next week.
"As with Napolitano, Draghi would be seen as a reassuring presence for international investors" as Italy's president, said Marco Stringa, an economist at Deutsche Bank AG in London. "This would be a miscalculation, as Draghi can play a much more important role for the euro area, and for Italy, as ECB president."
Draghi, 67, has shown before how his present position helps his homeland as well as the rest of the currency bloc. His pledge in 2012 to do "whatever it takes" to save the euro helped slash the interest rates on bonds paid by nations including Italy, which has one of the highest debt ratios in the euro area at 133 percent of gross domestic product.
Unfounded Rumors
Draghi has denied on several occasions that he'll quit his eight-year term at the ECB, which runs through 2019, for the Italian presidency.
"I am at the ECB and I will stay at the ECB," he told the European Parliament Economic and Monetary Affairs Committee in Strasbourg in July. "All the rumors to the contrary, coming from some interested parties perhaps, are unfounded."
In an interview with German newspaper Die Zeit published yesterday, he again ruled himself out of the running.
"It's a great honor to be considered, but it's not my job," he said. "What's important is the job I'm currently doing. I'm glad to be able to practice it and I will continue to practice it."
An ECB spokesman declined to comment, pointing only to the interview in Die Zeit.
Political Fray
Italian Prime Minister Matteo Renzi and German Chancellor Angela Merkel are scheduled to meet from Jan. 22 to Jan. 23 in Florence. Those talks could include a political deal that would help smooth Draghi's transition to the presidency, Stephen Lewis, chief economist at London-based ADM Investor Services, said in a note last week.
Renzi "needs someone who is internationally accepted, believes in reforms, and has a two-third majority of Senate votes," said Steen Jakobsen, chief investment officer at Saxo Bank A/S in Copenhagen. He said Draghi is less likely though would have a "bigger impact" than other candidates being discussed.
Draghi's background as governor of the Bank of Italy from 2006 to 2011 counts in his favor. The country has previously tapped the leadership of its well-respected central bank when in search of a stabilizing figure above the political fray.
Economist Luigi Einaudi, who led the Bank of Italy from 1945 to 1948, became the country's first president after a new constitution in the aftermath of World War II. Governor Carlo Azeglio Ciampi became a caretaker prime minister and was eventually elected to the presidency in 1999.
Patriotic Duty
Former Prime Minister Silvio Berlusconi said in a Nov. 29 interview with Corriere della Sera that Draghi would be a suitable candidate for Italy's presidency. Even so, Draghi's denials suggest that should he ultimately take the job, it's likely to be because patriotic duty calls.
Napolitano himself was re-elected to a second term in 2013, a first in Italian history, after parliament's failure to find a consensus candidate sparked fears of a prolonged vacuum of power that would stall reforms.
"The name of Draghi pops up because he embodies the ideal kind of figure to address Italy's economical and social problems," said Marcello Messori, a professor of economics at Luiss university in Rome and president of state railway holding company Ferrovie dello Stato Italiane SpA. "It would a very prestigious name when Italy is at a difficult juncture."
Before it's here, it's on the Bloomberg Terminal.
LEARN MORE