What Rajan Wants From Modi to Keep Cutting India's Rates
Sandrine Rastello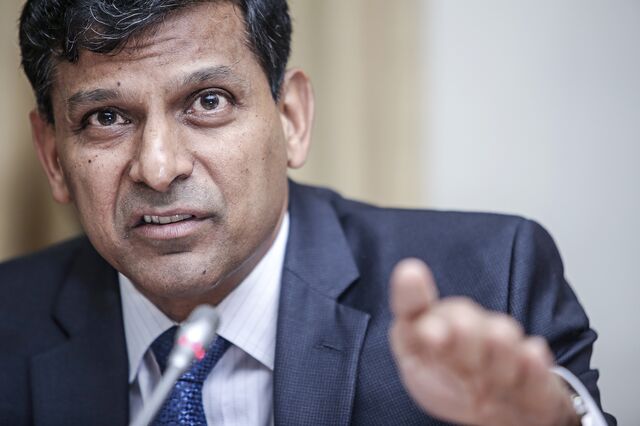 After months of holding India's interest rates as inflation eased in line with a slump in global oil prices, central bank chief Raghuram Rajan finally cut yesterday in an unscheduled meeting.
It marked Rajan's first reduction since taking office 16 months ago with a pledge to damp one of Asia's fastest inflation rates. The question now is when he'll cut again: Before or after Prime Minister Narendra Modi unveils the fiscal budget.
While Deutsche Bank AG and Morgan Stanley see Rajan lowering borrowing costs at the scheduled policy review on Feb. 3, Credit Suisse Group AG, Citigroup Inc. and HSBC Holdings Plc say it probably won't happen till after the budget is presented later in the month.
Inflation remains the key variable, Rajan noted in his policy statement. Consumer prices gained 5 percent in December, below his 8 percent target for this month and his 6 percent goal a year from now. That's likely to be met, he said.
At the same time, the budget also got a mention. Rajan said he's looking for "high-quality fiscal consolidation" and moves to ensure supply of power, land, minerals and infrastructure -- all key to reviving the investment cycle.
Modi has so far struggled to win approval from lawmakers for proposals to do just that, prompting him to use temporary measures to quicken the process. In some ways, the rate cut signals Rajan's faith that Modi can deliver, according to Dariusz Kowalczyk at Credit Agricole CIB in Hong Kong.
"Sometimes central bankers trust the government and sometimes they wait for deeds to confirm the words," he said. "This time they basically cut rates while waiting for the government to make good on their promise of fiscal consolidation."
So what will Rajan be looking for in the next fiscal budget?
* Meeting targets. Will the government bring the deficit down to 4.1 percent of gross domestic product in the year ending March 31 and stick to a goal of 3.6 percent for the following 12 months? While the gap was already at 99 percent of the full-year goal of 4.1 percent of GDP at the end of November, Siddhartha Sanyal and Rahul Bajoria from Barclays Plc in Mumbai think it's feasible.
"In recent years revenue collection over the final four months of the fiscal year has typically been similar to that raised during the first eight months of the year," they wrote. "This trend is likely to be bolstered this year by the increase in excise duty on both gasoline and diesel" that may bring an additional boon.
* Tightening, the right way. It's better for the economy to reduce spending on subsidies than on capital expenditure, said Ed Teather, a Singapore-based economist at UBS Group AG.
While the government scrapped some petroleum handouts last year, Rajan will want to see a commitment to further lowering subsidies over several years, Credit Suisse's Deepali Bhargava said. Price hikes are overdue on urea, kerosene and liquefied petroleum gas, according to Devika Mehndiratta, an economist with Australia & New Zealand Banking Group Ltd, who doubts they will happen.
* Reviving capital spending without letting the deficit go through the roof. "The government can raise public investments in a fiscally disciplined way by switching spending from current to capital," write HSBC's economists. That could be done by lowering oil subsidies, expanding direct transfer of benefits and eliminating overlap between federal and state spending plans, they say.
* Anything that attracts more investment. Asia's third-largest economy is growing at the slowest pace in almost a decade, and interest rate cuts alone can't do much.
"Any reforms that can remove supply constraints," said Bank of Baroda's Rupa Rege-Nitsure. That includes making land more affordable and improving power supply or infrastructure capabilities -- all things Rajan has called for.
He may also look for measures to simplify taxation and a "more definitive stand on retrospective taxation," said Rajiv Kumar of the Centre for Policy Research.
"What ails India is not the cost of capital," said Frederic Neumann, co-head of Asian economics at HSBC Holdings Plc in Hong Kong. "It's really the fact that a lot of infrastructure programs are stuck in the ground, holding up the follow-up investment."
Before it's here, it's on the Bloomberg Terminal.
LEARN MORE