This Year's Hot Emerging Market at Davos? The U.S.A.
Matthew Campbell and Jacqueline Simmons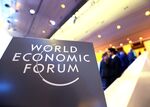 The World Economic Forum has long been something of a coming-out party for emerging economies, with developing countries dispatching politicians and executives to the Swiss resort of Davos to drum up interest. This year, the big magnet for investment looks to be an older player on the global stage: the United States.