How Fake Sports Are Turning Man Cave Dwellers Into Millionaires
By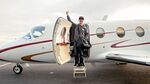 Enormous TV screens with live National Football League feeds cover the walls of the ballroom at the Cosmopolitan Hotel in Las Vegas. A sound system blares the broadcasts of all the various games at an ear-shattering volume. Couches and bar stools are scattered around the 14,520-square-foot space, which is playing host today, Dec. 14, to the fifth annual FanDuel Fantasy Football Championship. The 100 finalists—many of them wearing NFL garb, most of them loud, all of them male—know one another by their handles, which tend to the sophomoric (Wanker14, ambassador_of_awesome). A guy in a Tony Romo jersey jumps out of his chair and yells, "Oh my God, make a play!" after a pass is dropped. Some contestants have brought their wives or girlfriends; some came with buddies. The crowd is taking full advantage of the open bar. A Playboy Playmate attempts to mingle, but no one notices. By 5 p.m., FanDuel, the fantasy-sports betting site, will give away $7 million in cash prizes. The first-place winner will get $2 million.
The contenders and their posses are encamped around the room. Jeremy Bennight (jbennight22), a ticket broker from Oklahoma City, has been up since 5 a.m. "I just sat there this morning staring at my computer," he says. "You can't help but be nervous." Jacob Schuck (airattack0829) staked out a spot with a good view of the Cleveland Browns-Cincinnati Bengals game. He's giddy, talking in a thick New Jersey accent about how he'll request his winnings be in FanDuel shares in lieu of cash. That plan assumes Cleveland quarterback Johnny Manziel has a big game. The early signs aren't good. "I'm going to have an anxiety attack," Schuck says.
The early leader is a boyish-looking 33-year-old personal trainer from Pasadena, Calif., named Scott Hanson (escot4). "I'm having a hard time sitting down," he says. "I just want to stand." Hanson, who's been into fantasy sports since he was a kid, joined FanDuel in 2014 with an initial stake of $35, entered an FFFC qualifier on a lark, and beat out 59,000 others to earn the free trip to Las Vegas. He'd already put together a spreadsheet to keep track of NFL player stats, Vegas point spreads, and dozens of other variables. His hopes ride on Cincinnati's rookie running back, Jeremy Hill. Hanson had seen a news item about how the Bengals' coach might use Hill more than usual against the crummy Cleveland defense. Hanson plugged the extra playing time for Hill into his formula for selecting his fantasy roster. He predicts a breakout game.
Every major sports league in North America has a corresponding fantasy universe. To play, you select players from different real-world teams, and when your picks do well on the field (or court or rink), your make-believe team gets points. It started in the 1980s with baseball and football, mainly among friends who tracked stats in newspaper box scores. As fantasy leagues moved online, participation soared. More than 40 million people played fantasy sports in North America last year, the equivalent of 30 percent of U.S. adult males.
FanDuel, based in New York, brings a couple of twists to the game. The first is that leagues last only a day, so rather than wait all season to declare a winner, players know who won as soon as time runs out in the last game of the day. Twist two is money. Small-stakes fantasy leagues aren't new, but FanDuel and similar sites bring it to a much larger scale. For a few bucks, a person drafts a team and competes against tens of thousands of others online. There are thousands of contests to enter each night for football, basketball, hockey, and baseball, whatever is in season. Like online poker, cash prizes can run to seven figures. Unlike online poker, it's legal in most states.

FanDuel has more than 1 million paying users and controls about two-thirds of the daily fantasy-sports market. The company has raised $88 million from investors including Comcast; private equity firms Shamrock Capital Advisors and KKR; and the National Basketball Association, whose commissioner has come out in support of legalizing sports gambling. FanDuel was valued at more than $1 billion during its last investment round, according to a person familiar with the company's finances who was not authorized to speak on the record because the information is private. The next-biggest site, DraftKings, based in Boston, has attracted $76 million in venture capital. This year the daily fantasy-sports industry will collect more in entry fees than all the sports books at Vegas casinos combined, according to Eilers Research, which studies the gaming industry.
"They've surveyed fantasy-sports players and asked, 'When do you expect to quit?' " says Nigel Eccles, chief executive officer and co-founder of FanDuel. "And the average response is, 'Never.' "
 
 
Tall and fit, with slightly disheveled blond hair, Eccles comes across as a younger, calmer version of the f-bomb dropping celebrity chef Gordon Ramsay. Outside the ballroom at the Cosmopolitan, Eccles pulls out his iPhone to show off some numbers. At that moment, FanDuel is raking in $27,500 in entry fees per second. Eccles says he plans to expand the number of live contests, including some at the Playboy Mansion. He's talking with sports channels about producing a reality show about fantasy players, or maybe a show like CNBC's Mad Money but about pro athlete values instead of stocks. "I just think that'd be really interesting TV," he says.
Getting started on FanDuel takes only a few minutes. You go to the website or download its app and then sign up with a username. ("Jiggyjabberjaw" and "vahomeboy" are taken.) After entering a credit card number, you put money into an account. Most leagues cost $1 to $25 to enter—some bigger-stake competitions require $2,000 and up—and have names such as "$13K Mon NBA Dribbler." Tap on a contest name, and up comes a list of player positions to be filled. FanDuelers can pick hundreds of new teams every day, sometimes multiple teams in one league. The site collects 10 percent from each entry fee and leaves the rest for prizes. Revenue last year, after paying out $564.5 million in winnings, was $57.3 million. That's up from about $14 million the previous year and $1.2 million in 2011. Eccles says the company isn't profitable, "but we're building a multibillion-dollar business."
About 80 percent of FanDuel revenue comes from top-quintile spenders such as Bryce Mauro (3rd_and_Schlong), a 21-year-old student at DePauw University. Mauro says he spends about $35,000 on as many as 1,000 NFL contests per week on FanDuel and other sites, plus another $15,000 per night on basketball. He says he made $250,000 in profit last year. "I do it as my full-time job, basically," he says.
Eccles, 40, wasn't much of a sports fan before starting FanDuel. He grew up on a dairy farm in Northern Ireland and spent a few years at McKinsey, where one of his projects was working with the U.K. military on logistics during the Iraq War. He also worked in the online betting industry. In 2008 he and his wife, Lesley, and three others started a site called Hubdub in Edinburgh that let people bet virtual money on news events. It flopped. One part of the business seemed to find an audience, though: sports. That gave Eccles and his crew the germ of an idea for FanDuel, which they launched in 2009. "We were desperate," he says.
The basic concept was to accelerate fantasy sports. Eccles also wanted to add real-money wagering so the company wouldn't have to rely on advertising to generate revenue. He took out ads on Craigslist to find people to test ideas. "I remember this guy from New York," he says. "We described this game to him, and he said, 'That sounds like something I would play with my, like, 12-year-old nephew.' " When Eccles asked whether the game would be more appealing if money were involved, the guy responded, "Now you're talking."
Eccles spent much of 2010 and 2011 trying to recruit investors, who weren't convinced that fantasy sports could become a lucrative business. And even if it did, there didn't seem much to prevent an ESPN or a Yahoo! from coming in and crushing FanDuel. Eccles says he was turned down by 85 investors. FanDuel, still based in Scotland, almost went out of business before some existing shareholders stepped in to provide enough cash to last six months. Eventually, London-based venture firm Piton Capital put in $4 million.
The company relocated to New York and poured its money into advertising. Lesley Eccles, in charge of marketing, is a believer in the 1920s book Scientific Advertising, which preaches that ad campaigns are useless unless their effect on sales can be measured. FanDuel includes promo codes in every radio and TV spot. The codes, which put money in a person's FanDuel account in exchange for signing up, allow the company to gauge which ads are working. The startup has rolled out a series of cheesy, Hair Club For Men-esque commercials during sports broadcasts, which favor player testimonials. ("I started with a $125 deposit, now I've made over $62,000!")
Bringing in a new customer costs about $70, but once they're in, they stay. "In what business do you buy a customer for $70 and that user generates $100 per year indefinitely?" Nigel Eccles says. "That's our numbers. We don't just spend money because it looks good—it works. We have a good product, but it's really a marketing story more than a technology story."
Eccles is dismissive of his competitor, DraftKings, which he calls an inferior clone. "We've raised the same amount of money, and they've got a third of the user base," he says. DraftKings CEO Jason Robins says the market "is large enough for both companies."
FanDuel and DraftKings are spending heavily on ads during live sports broadcasts and are paying teams and leagues for the right to be exclusive marketing partners. Fantasy contests also make sports fans even more addicted, says Brody Ruihley, an assistant professor of sports administration at the University of Cincinnati. "Sports Fans 2.0," as he calls them, consume at least twice as many games and other content on TV and online as the average fan.
"It's very much in line with the way people consume media today," says Sal LaRocca, president of global operations and merchandising for the NBA. "We're on our phones, looking at our Twitter feeds, looking at headlines, and we consume things in very short periods of time."
 
 
Max Steinberg, 26, is a Vegas-based professional poker player with career winnings of more than $2 million. He used to play online. That largely stopped in 2011, on a day known to gamblers as Black Friday, when the government shut down many poker sites. Steinberg had more than $100,000 seized. The crackdown stemmed in part from the 2006 Unlawful Internet Gaming Enforcement Act. But the law has a big loophole: It defines fantasy sports as a game of skill and therefore not subject to the same kind of regulation. So like a lot of online gamblers, Steinberg is now into daily fantasy sites such as FanDuel. He's been playing for about a year and says it's like the days when online poker was legal and full of amateurs. "It may be even bigger," he says. "I wanted to get in early when it's easiest. So far it's been really easy."
Steinberg works with his twin brother, Danny, and their older brother, Aaron. Together they wager about $75,000 on hundreds of contests each weekend during football season, and an additional $3,000 per night on basketball. When baseball starts, they'll spend about $10,000 a night, and more than $1 million over the course of the season.
Fantasy prizes aren't typically winner take all. In one FanDuel NBA contest on Jan. 11, the top 206 out of 1,149 players won something, from $6.25 up to $500. Max says he earned more than $300,000 last year playing on FanDuel and other sites. On victiv.com, he won $50,000 and tickets to Super Bowl XLIX, which he then sold for $10,000. "I'd rather watch it at home and have $10,000 in my pocket," he says.

The brothers' modus operandi starts with the Vegas lines, particularly point spreads and total points. For example, sports books had the New York Giants-Washington Redskins game in December with a combined score of 46.5. Because the Giants were favored to win by 6.5, the Steinbergs knew the expected score was 27 to 20 Giants. New York had a pass-heavy offense and Washington a bad pass defense, so the brothers predicted a big game for Giants wide receiver Odell Beckham Jr., who went on to catch three touchdowns. The brothers also scan Twitter for injury updates: If a starter gets hurt, the backup may be a valuable pick.
A key challenge is the "salary cap" set by FanDuel, typically at $60,000. Every real-world athlete is assigned a dollar value, and users have to make sure their quarterback, two running backs, three receivers, one tight end, kicker, and team defense all add up to less than the cap. "You're always looking at the players' price because you're trying to make a team based on the parameters of the limited salary that you have," Max Steinberg says. The brothers have started a website, dailyfantasywinners.com, to publish their analysis and to earn money from FanDuel, which pays them for referrals.
With the popularity of fantasy sports in America and the approval of the major pro leagues, the growth of FanDuel and its imitators is showing no sign of slowing down. Eccles is insistent that fantasy sports and gambling are "completely different categories," and says a recent survey showed that 70 percent of FanDuel's players don't partake in conventional sports betting or play poker for money.
The more immediate concern for Eccles and his fellow fantasy-sports entrepreneurs is the casino-like problem of keeping both heavy spenders and casual players happy. The companies count on the big players for most of their revenue, but the skill and spreadsheet energy invested by people such as the Steinbergs could make it difficult for amateurs to win and stay engaged. "You need the sharks and the minnows," says Adam Krejcik of Eilers Research. "If it's just a bunch of high-volume guys who run models and it's a hard-core game then you're never going to get your average player or sports fan who will drop $5, $10, $15 in there. You need to have a healthy balance."
 
 
In the Cosmopolitan ballroom, the crowd is fixated on the New York Jets-Tennessee Titans game. It's almost over, and the teams are out of playoff contention, but several FFFC finalists have Titans tight end Delanie Walker on their teams. A catch by Walker would change the final standings.
Someone prematurely cuts the NFL feed, and the FFFC leader board appears on the screens. The crowd shouts in anger, then surges toward a far corner where a TV still has the game on.
With one second left, Titans quarterback Charlie Whitehurst takes the snap. He throws over the middle to running back Dexter McCluster, who tosses the ball back to another player, who flips it back to Whitehurst, who throws it to Walker, who starts running. Hundreds of thousands of dollars ride on how far he makes it. People yell as Walker avoids one tackler and yell louder as he sprints toward the end zone. At the 10-yard line, New York safety Dawan Landry dives for Walker's legs and knocks him out of bounds.
As the Jets celebrate on the field, the FFFC players in the ballroom look confused. Nobody knows how it'll be scored because it was such a bizarre play. Everyone stares at the leader board as FanDuel's software does its thing. After about a minute, the score appears and the room erupts.
Then come the checks. John Lovelace (k_c_p), a pilot from Orlando, leaps to third place and $500,000. Jake Sanders (sandstorm), who led the tournament for part of the day, falls to fourth because of the Walker play. He gets $300,000 and looks ill. "I'm just thankful to be in a position where I feel like I'm going to throw up," he says. "Not to sound all cliché." The Steinbergs, who have already left the premises, win $70,000.
The $2 million grand prize goes to Hanson, the trainer from Pasadena and the only FFFC contestant to pick Cincinnati's Jeremy Hill, who ran for 150 yards and two touchdowns. A few well-liquored friends hug Hanson and chant "Scott! Scott! Scott!" Someone at a nearby table mutters, "What if I yell 'F--- that guy.' "
"I'm having an out-of-body experience," says Hanson's wife, Danielle, who's been crying. She turns to her husband. "I'm sorry for telling you to come to bed when you wanted to stay up and play your games."
A few days later, after publicity photos, a FanDuel-arranged private jet back to Los Angeles, and a visit to a BMW dealership to buy Danielle a new 428i, Hanson says he and his wife plan to start a family. He's since won another $25,000 in a fantasy basketball tournament and is thinking about a new career. "I'd consider doing the whole stay-at-home dad slash daily fantasy-sports player thing," he says.
Before it's here, it's on the Bloomberg Terminal.
LEARN MORE