Pope Enters Charlie Hebdo Debate, Defending Limits on Speech
Helene Fouquet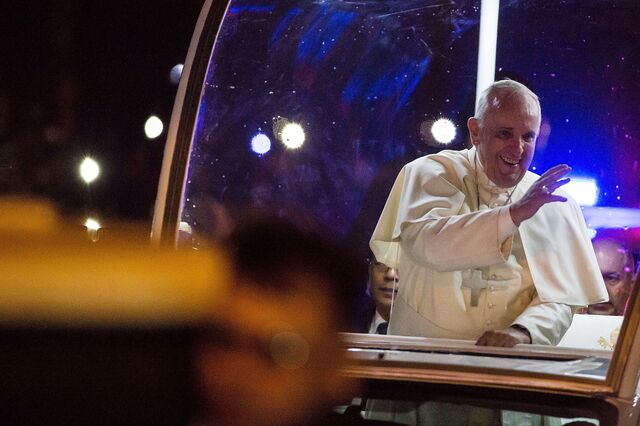 Pope Francis said there are limits to freedom of expression, weighing in on the side of those in France and elsewhere who say Charlie Hebdo's cartoons of Prophet Muhammad went too far.
"You cannot insult other people's faith," he told reporters today aboard a plane taking him from Sri Lanka to the Philippines as part of his Asian tour. "You can't make fun of other people's faith," The Pope also said killing in the name of God was "an aberration." The comments were broadcast and posted by Radio Vatican.
Nine journalists at Charlie Hebdo were among those killed by two self-proclaimed Islamist gunmen who stormed the offices of the satirical magazine in eastern Paris on Jan. 7. The assailants said their actions were meant to "avenge" the prophet, a popular subject for cartoons at the magazine. The Charlie Hebdo shootings were among three such attacks in and near Paris last week that claimed 17 lives before police killed the three gunmen.
To illustrate his point that there were limits to free speech when it insults, Pope Francis jokingly said that if "his good friend Dr. Gasparri" cursed his mother, he can "expect a punch," at which point the 78-year-old pontiff feigned a swing at Alberto Gasparri, a senior Vatican official standing next to him at the briefing. The Vatican later put out a statement referring to the gesture.
Spoken in Jest
"The pope's expression is in no way intended to be interpreted as a justification for the violence and terror that took place in Paris last week," Vatican spokesman Father Thomas Rosica said in an e-mail. "The pope's words about Dr. Gasparri were spoken colloquially and in a friendly, intimate matter among colleagues and friends on the journey. His words mean that there are limits to humor and satire particularly in the ways that we speak about matters of faith and belief."
The Paris attacks rekindled debate on how far publications can go with religious images that some may find offensive. That came as rallies across France with signs saying "Je suis Charlie," or "I am Charlie," on Jan. 11 drew a record 3.7 million people to the streets to pay homage to the victims and defend freedom of expression.
In its first publication since the attacks yesterday, Charlie Hebdo put Prophet Muhammad on its cover, raising hackles in Turkey and Iran. The special issue featured a cartoon of Muhammad, crying, against a green background, holding a board saying "Je suis Charlie" or "I am Charlie." Above his image is written "All is Forgiven." Publishers are printing about 5 million copies in more than 16 languages.
Mocking Way
France's L'Express magazine published an editorial by a professor at Namur University in Belgium, who said there is "a distinction to be made between what one says and how one says it." While Jean-Michel Longneaux agreed on the right to debate everything, he said Charlie Hebdo's "mocking" way of doing things should be off limits.
French comic Dieudonne, who has had several run-ins with the law for what are seen as anti-semitic comments, was arrested yesterday at his home in north France for posting "Je Suis Charlie Coulibaly" on his Twitter account. Amedy Coulibaly was one of the three gunmen in last week's attacks. Dieudonne will be prosecuted for defending terrorism.
Draw Everything
In 2011, Charlie Hebdo published a special edition called "Charia Hebdo" featuring Muhammad as a "guest editor." The cover showed the prophet threatening readers with "100 lashes if you don't die of laughter." Shortly thereafter, Charlie Hebdo's Paris offices were firebombed in an overnight attack. No one was injured.
In 2006, the magazine reprinted cartoons of Muhammad originally published by a Danish newspaper, which had prompted violent protests. Muslim tradition deems the depiction of the prophet as blasphemous. Islamic organizations sued the magazine over the drawings, a case dismissed by a French court in 2008, according to the Charlie Hebdo website.
"In France, one can draw everything, including the prophet," Justice Minister Christiane Taubira said today after attending a memorial service for one of Charlie Hebdo's cartoonist.
Before it's here, it's on the Bloomberg Terminal.
LEARN MORE