Politicians Hate Traffic Cameras As Much As Everyone Else
The turn against the cameras has left officials scrambling to make up budget shortfalls from lost ticket revenue.
By and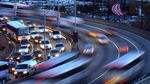 Traffic-light cameras were once promoted as a low-cost way to reduce car accidents. Rather than assigning cops to monitor a crash-prone intersection, municipal and county governments could deploy electronic eyes to scan traffic, letting law enforcement agencies issue tickets remotely. The early results were positive: Cities with cameras saw a 24 percent drop in fatal crashes. The camera programs, which were tested in New York City in the late 1980s, spread to California, Florida, and everywhere in between.