Politicians Hate Traffic Cameras As Much As Everyone Else
The turn against the cameras has left officials scrambling to make up budget shortfalls from lost ticket revenue.
By and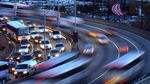 Traffic-light cameras were once promoted as a low-cost way to reduce car accidents. Rather than assigning cops to monitor a crash-prone intersection, municipal and county governments could deploy electronic eyes to scan traffic, letting law enforcement agencies issue tickets remotely. The early results were positive: Cities with cameras saw a 24 percent drop in fatal crashes. The camera programs, which were tested in New York City in the late 1980s, spread to California, Florida, and everywhere in between.
Drivers weren't happy. Now politicians around the country are moving to get rid of the cameras. Nationally, the number of red-light camera programs in the U.S. has dropped to 469, from a high of 540 in 2012, according to the Insurance Institute for Highway Safety (IIHS), which monitors traffic issues for the insurance industry. 
On Dec. 16, New Jersey's Department of Transportation ended a five-year trial program after Republican Governor Chris Christie chose not to renew it, directing local governments that had participated to disconnect the systems and take down warning signs "as soon as is practicable." A few days later, Ohio Governor John Kasich, a Republican, signed a bill requiring towns to post officers alongside cameras to witness traffic violations, a rule intended to make it too expensive for local governments to continue camera programs. "There's some evidence that perhaps they do promote safety," says Bill Seitz, the Republican state senator who argued that Ohio's camera program amounted to an unfair levy on drivers, some of whom found themselves cited for making legal right turns on red lights. "The costs outweigh the benefits, and the revenue-enhancement feature of this predominates over safety."
Other areas have canceled camera programs targeting speed-limit scofflaws. In December, Long Island's Nassau County pulled speed cameras from school zones. They'd produced more than 400,000 tickets in just two months but triggered a public outcry. "The program angered residents to a point where it was outweighing the improved safety," says Cristina Brennan, a spokeswoman for Norma Gonsalves, presiding officer of the Nassau County Legislature. Neighboring Suffolk County announced it was scrapping plans to install speed cameras near schools in 2015. Speed cameras are banned in at least a dozen states, according to the IIHS.
The turn against the cameras has left officials scrambling to make up budget shortfalls from lost ticket revenue. Local governments in at least 35 states, including New York and New Jersey, face restrictions on how much they can increase property taxes, limiting the sources of revenue used to pay for public services. 
"It's an easy way to raise revenue without raising taxes," says Howard Cure, head of municipal research at Evercore Wealth Management in New York. But, Cure says, "they're a political liability."
The Republican county executive, Ed Mangano, used that projected revenue to help persuade a state oversight board to end a three-year wage freeze for Nassau employees. "The cameras were one of the shiny objects the county seems perpetually attracted to," said Chris Wright, a member of the control board who voted against lifting the wage freeze in May. The county was already facing a deficit of about $200 million next year. Mangano and the Republican majority in the Nassau County Legislature have agreed to make up the $30 million by increasing a surcharge on mobile phones for 911 service, ending a subsidy to a hospital, and selling billboard advertising space, says Brian Nevin, a spokesman for Mangano.
For Linden, a city of 41,000 in suburban northern New Jersey, the end of the red-light camera program means losing as much as $1.5 million from a $100 million budget, says Mayor Richard Gerbounka. 
The city was planning to use the money to add as many as eight police officers. "You can forget about that," he says.
Dayton will lose $1.4 million of the $150 million it takes in annually, says City Manager Tim Riordan. To close the gap, the Ohio city will reduce the number of police cruisers to 8 from 16 and cut its street-resurfacing budget to $700,000 from $1.7 million. "These cuts will have a direct impact on people that they'll see," says Riordan.
The bottom line: Traffic cameras reduce accidents and raise revenue, but politicians are scrapping them to placate angry drivers.
This story appeared in the Jan. 19-25 issue of Bloomberg Businessweek.