Guarding Pope a Test in Nation Where Plots Mar Papal Visits
Norman P. Aquino and Siegfrid Alegado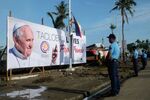 The recent terrorist attacks in Paris and Sydney have prompted Philippine authorities to beef up security for Pope Francis, who arrives in Asia's most-Catholic country today, where he is expected to attract crowds in the millions.
The Philippines has good reason to be nervous: Assassination attempts were made on two previous pontiffs in past visits. In 1970, a Bolivian artist tried to stab Pope Paul VI on arrival at Manila's airport, and 25 years later, Pope John Paul II avoided a bomb attack in the city.
Authorities are also on edge after last week's killing of 17 people that began with in an attack on satirical magazine Charlie Hebdo, and December's siege in a Sydney cafe that ended in a shootout. About 37,000 policemen and soldiers will be mobilized for Francis's visit, which is complicated by the 78-year-old pontiff refusing to travel in a bullet-proof car and his penchant for plunging into crowds to greet the faithful.
Security forces have analyzed recent events overseas, Interior Secretary Mar Roxas said in a televised briefing yesterday when asked whether the incidents in France and Australia had prompted a change in preparations.
"Any appropriate measures applicable to the Philippine setting are being incorporated in the security plan," he said.
Huge Crowds
The government also has to contend with huge crowds. About 6 million people are expected to attend Sunday mass in Manila's Luneta Park on Jan. 18, Roxas said. President Benigno Aquino led a dress rehearsal the evening of Jan. 13 for Francis's motorcade from Villamor Airbase in Pasay City to the pope's temporary home along Taft Avenue in Manila.
"We've added security measures not only against terrorism but also to control the crowd," Roxas said. The government can airlift the pontiff if needed, he said, recalling that in 1995, John Paul II rode a helicopter to and from an event in Manila after a sea of people blocked his motorcade.
Aquino on Jan. 12 appealed for restraint and cooperation during the pope's visit. He has declared Jan. 15, 16 and 19 as special non-working days in Metro Manila.
The pontiff is scheduled to arrive at the air base at 5:45 p.m. local time today. He'll meet Aquino at the presidential palace tomorrow before mass with religious leaders. On Jan. 17, he'll travel to typhoon-devastated Tacloban before returning to Manila for the open-air mass the following day.
Metal Detectors
The government has set up empty spaces around the site of the mass in case of potential stampedes and other emergencies, Roxas said. About 30 video screens will be positioned at the venue, he said.
Thirty walk-through scanners will be set up in the park, and police will use hand-held metal detectors to check baggage, Carmelo Valmoria, who heads the National Capital Region Police Office, told reporters yesterday. Anyone found with pointed objects, guns or other weapons will be detained, said Leonardo Espina, national police officer-in-charge, said at the same briefing.
"The government's extensive security preparations are warranted in light of assassination attempts during the 1970 and 1995 papal visits," Eufracia Taylor, Asia analyst at Verisk Maplecroft, said in an e-mail. "Any incident which indicates a failure to adequately protect the pope will be calamitous politically and a huge embarrassment for the government given the international media exposure during the visit."
Attack Risk
The chances of an attack by Islamist terrorist groups such as Abu Sayyaf are low, Taylor said. "This is due in part to the capabilities necessary to undertake such an operation, which domestic groups such as Abu Sayyaf largely lack."
The Civil Aviation Authority of the Philippines said a no-fly zone will be implemented around Manila's airport when the pope arrives, and Tacloban airport in Leyte will be closed to all air traffic when he visits the central province Jan. 17.
No-sail zones were declared in Manila Bay in areas near the venues the pope will visit, the Philippine Daily Inquirer reported Jan. 11, citing the coast guard.
Benito Lim, a political science professor at the Ateneo de Manila University, said the government is over-publicizing its security measures.
"The government should take measures to secure the pope and the crowd given attempts to kill two pontiffs in Manila in the past and the Paris shootings, but they should do it quietly," he said by phone.
Before it's here, it's on the Bloomberg Terminal.
LEARN MORE