If You Like the Grand Central Oyster Bar, Here's Where to Eat in Other Major Cities
Your bivalve guide for Boston, San Francisco, Chicago, London, and Paris
By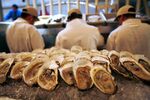 Just after New Year's it always amazes me how I start to crave oysters. Maybe I'm rationalizing that seafood and a martini is somehow healthier than everything caloric I ingested in December. There are few places on earth where you can get as much variety and volume of fresh crustaceans as at the Grand Central Oyster Bar in New York. If you love oysters as much as I do, Swan Oyster Depot in San Francisco, while not as big, matches Grand Central punch for punch in quality, killer specials, and sheer masculine brusqueness. Just beware that both places have hours like the tides.  

The spot: Grand Central Oyster Bar
Location: Grand Central Terminal, NYC
Setting: Majestic; lights line the Guastavino-tiled vaults under the station
Food: Stick to the oysters
Bar scene: Commuter, after-work
Noise level: Loud and audible
Secrets: Just outside the entrance is the famous "whispering gallery." Put yourself in one corner, a friend at the other, and speak. More fun after a few martinis.
If you love the Oyster Bar, you should definitely also try: 
Maison Premiere (Brooklyn): A Williamsburg version of the model, replete with candlelight, mustaches, and superlative cocktails. Also try John Dory and Blue Ribbon.
B&G Oysters (Boston): No. 9 chef Barbara Lynch's ode to Boston's historic production and dominance of the fish trade. Still, as with all these, I'd stick to the oysters.
Huitrerie Regis (Paris): Celebrated in Mireille Guiliano's (Why French Women Don't Get Fat) new book, Paris Oyster. Classics such as Le Dome and Terminus Nord work, too.
GT Fish & Oyster (Chicago): Chicagoans argue they're ideally situated to get the best from both the East and the West Coast of America. This is an elegant, modern take.
J Sheekey (London): This harks back to a time of thespians slurping in Covent Garden. I'm also partial to Bibendum in Chelsea and Sweetings in the City's heart.
This article originally appeared in the January 2015 edition of Reserve, a Bloomberg Brief publication. Click here for the full issue and to request a subscription invitation.
Before it's here, it's on the Bloomberg Terminal.
LEARN MORE