Get Ready for a 'Volatile, Unpredictable' Race, Rove Says
The Republican strategist sees a popcorn-worthy contest.
By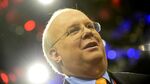 It's on, says Karl Rove.
"The field last time was among the weakest in memory; this field could be among the strongest," the former George W. Bush strategist wrote in a Wall Street Journal column on Wednesday about the 2016 Republican presidential primary. "The race is wide open with no commanding front-runner."
"This is likely to be the most volatile, unpredictable Republican contest most [Americans] have ever seen," he added.
In fact, that race has already been playing out in the Journal's own pages. On Wednesday, the editorial board had harsh words for another Romney candidacy, saying that it was "not obvious" that the former Massachusetts governor "would be a better candidate than he was in 2012." It described his political character as "protean," claimed he coasted on dissatisfaction with Obama while failing to offer his own vision, and slammed his campaign, calling it "notable for its mediocrities."
Perhaps weary of that kind of approach, Rove told Republican candidates in his column that "fierce, especially personal, attacks will create a low ceiling for the assailant while benefiting candidates who stay out of the fracas" and stressed the importance of messaging, vision, and strategy.
Meanwhile, Journal parent company chairman Rupert Murdoch doesn't sound too enthused about what our colleague David Weigel is calling the Romneyssiance. Speaking at a New York event on Wednesday, Murdoch reportedly praised former Florida Governor Jeb Bush and Kentucky Senator Rand Paul and said he agreed with the editorial.
According to the New York Times, Murdoch said of Romney: "He had his chance."