Ene-Farms Use Hydrogen to Power Homes but Don't Come Cheap
By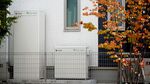 Just as Toyota is working to replace the gasoline in its cars with hydrogen fuel cells, Japanese companies are leading the charge to convince homeowners they're better off using hydrogen to power their lamps and TVs, too. The electricity is generated by so-called energy farms, or ene-farms, about the size of a refrigerator. They're made by companies such as Panasonic and Toshiba and sold by leading utilities, including Tokyo Gas. Ene-farms dangle the promise that the most abundant element in the universe will offer a safer, cleaner, more efficient alternative to nuclear power or fossil fuels. Because a standard home unit costs about $16,700, most consumers have been hesitant to buy.
Since commercial sales began in 2009, more than 100,000 Japanese households have installed generators that use hydrogen. That's a long way from where the government wants to be. Prime Minister Shinzo Abe has set a goal of 5.3 million hydrogen-powered homes, roughly 10 percent of Japan's total, by 2030. "The use of hydrogen can contribute to saving energy, tackling environmental issues, and increasing energy security," says Chihiro Tobe, head of the office promoting fuel cells at the Ministry of Economy, Trade, and Industry. On Dec. 27, Abe's cabinet endorsed legislation that would cover as much as 350,000 yen ($2,970) per home ene-farm purchase, according to the newspaper Yomiuri Shimbun. The subsidy, however, is less than in previous years.
To generate electricity, an ene-farm pumps natural gas from a local utility into its fuel cell, which uses a processor to extract the hydrogen and mix it with oxygen from the surrounding air. The reactions produce enough power to cover about half the demand of an average family, Tokyo Gas says, and the byproduct is excess heat that can supply a home with hot water. Toshiba estimates that its ene-farms can cut a home's carbon dioxide footprint in half. Tokyo Gas estimates that ene-farms save a household about $400 to $500 a year on their power and heat bills.
To persuade more people to buy an ene-farm, "the cost of the device needs to be significantly reduced," says Ali Izadi-Najafabadi, an analyst at Bloomberg New Energy Finance in Tokyo. Panasonic says it's made its ene-farms cheaper by refining the design to use fewer and smaller components. Panasonic says it's trying to reduce sizes further but wouldn't provide details.
Large hydrogen fuel cells power a smattering of factories and commercial buildings in the U.S. and Europe, and California's Self-Generation Incentive Program subsidizes as much as 60 percent of project costs for electricity consumers who install their own alternative or renewable power supplies, up to $5 million. Desert expanses make solar power a more attractive option for the environmentally conscious in the western U.S., but Masami Hihara, a Japanese trade ministry official, says his country's space constraints may leave fuel cells as the most attractive option.
In April, Tokyo Gas began selling ene-farms adapted for use in condos. The fuel cell unit, hot water unit, and backup heat source are all compact enough to fit in a typical apartment building. The latest ene-farms can also go fully off-grid for short periods of time (keeping homes lit during a blackout, for example) with separate battery storage systems that run an additional $5,000. Expanding into large apartment buildings may put the ene-farm market in reach of Abe's goal, Hihara says. But, he adds, "they need to be cheaper and smaller."
The bottom line: About 100,000 Japanese households have hydrogen fuel cells, but high costs are keeping them from wider use.
Before it's here, it's on the Bloomberg Terminal.
LEARN MORE