ECB Begins to Shape Euro Banks as Capital Race Quickens
Jeff Black, Boris Groendahl and Sonia Sirletti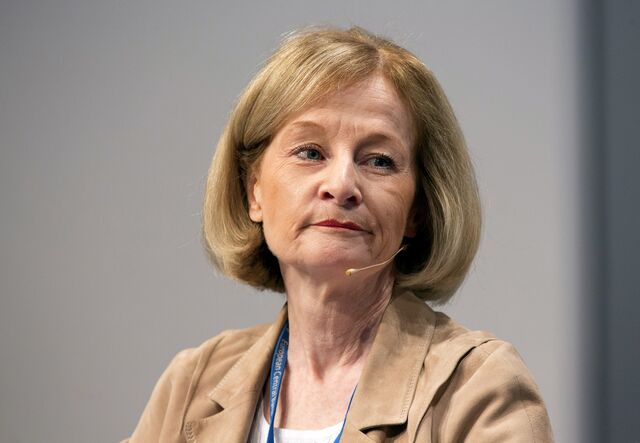 Euro-area bank executives are beginning to feel the force of Daniele Nouy's resolve.
The European Central Bank's supervisory chief wants banks to reflect the outcome of last year's ECB health check by either provisioning for assets that it found to be overstated by almost 48 billion euros ($56 billion) or raising more capital. Banca Monte dei Paschi di Siena SpA, the worst performer in the review, will probably post more than 3 billion euros in extra provisioning for the fourth quarter, according to a person with knowledge of the matter.
Lenders across the euro area are shoring up balance sheets as the ECB completes its first annual supervisory plan, due to be approved next month. As Nouy lays down new rules for the industry, banks are getting their first indication of how demanding officials in Frankfurt will be over the longer term.
"The undeniable trend is toward more and higher quality capital," said Christian Thun, senior director at Moody's Analytics in Frankfurt. "The regulators want a prudential valuation of assets, and either challenge the banks' own valuation or force them to hold more capital on the other side of the balance sheet."
The ECB's Single Supervisory Board is set to finalize so-called SREP plans for the 120 banks it monitors directly when it meets on Jan. 22. Many of the banks must respond to the ECB's individual plans for them by today.
Those plans, including capital-raising measures for the banks that failed last year's Comprehensive Assessment, must then be seen by the ECB's Governing Council, which has the right to object. That final step could happen as soon as Feb. 4.
Asset Values
An ECB spokeswoman declined to comment on the schedule for approval as the process isn't public.
Executives at Monte Paschi, which had a 2.1-billion-euro gap in last year's review, have updated the bank's directors in Siena about the outcome of a meeting with ECB supervisors yesterday in Frankfurt, where they discussed a plan to fill their capital shortfall, said the person, who asked not to be identified because the issue isn't public.
The executives are working on a formal response to the requests from the central bank on how to fill the gap, and a final decision is expected late next month, another person said. The bank's extra provisioning may lead the ECB to lower the preliminary capital target of 14.3 percent common equity Tier 1 set in December, according to the people. A spokesman at the Siena-based bank declined to comment.
In its unprecedented stress test and review of banks' balance-sheets that ended in October, the ECB said the highest adjustments to asset values would be needed in Italy, of about 12 billion euros, followed by Greece with 7.6 billion euros and Germany at 6.7 billion euros. The assessment was based on accounts as of the end of 2013.
2014 Adjustments
The ECB said then that the intention was for some of those adjustments to be made in the end-2014 accounts and the rest reflected in so-called Pillar 2 capital requirements, if banks had not already made amends in the course of last year. Pillar 2 requirements are in addition to the legal minimum, are specific to each bank and reflect its risk profile, business model and country conditions.
"We will ask very clearly and firmly the auditors what are the elements that they take on board in their accounts," Nouy said on Nov. 28, according to a transcript of her comments at a London event provided by the ECB. "What they don't take into account, we take it in Pillar 2, as simple as that that."
The Supervisory Review and Evaluation Process isn't just about capital. It's a system for evaluating banks' business models, governance and liquidity risks in addition to capital adequacy. In December, the London-based European Banking Authority issued guidelines for how the system should work throughout the European Union.
More Capital
"The SREP empowers the regulator to say, 'we're not convinced you have covered your risks appropriately and there are also the following issues with your governance and with your risk controls, and taking all that together we think you need 2 percent more capital,'" said Dominik Damm, financial advisory partner at Deloitte in Vienna.
Supervisors are "asserting the power to intrude in business models, by which they are effectively saying they know better how to run that bank than management does," he said.
The ECB's first SREP decisions combine the results of the Comprehensive Assessment with the results of evaluations by national supervisors conducted before Nov. 4 last year, when the central bank became the euro zone's single supervisor, the ECB said in an e-mailed response to questions.
Still, the SREP procedure isn't public, and only some banks are being asked to raise more funds to respond to the results of the Comprehensive Assessment. That leaves investors speculating about where the ECB's demands will settle.
Santander Stock
It also remains to be seen how far banks will go to compete with their peers. Banco Santander SA, which passed the ECB's health check, raised 7.5 billion euros in capital by selling stock last week. The bank had a 10.3 percent ratio of common equity Tier 1 to risk-weighted assets at end-2013, according to the ECB, well above the 8 percent pass mark.
"The capital debate is likely to intensify post Santander's capital hike," analysts Martin Leitgeb and Nick Baker at Goldman Sachs Group Inc. in London wrote in a client note. A 10 percent CET1 ratio "is now becoming the de facto benchmark for European banks."
Banks that failed the assessment outright are being pushed harder. Besides Monte Paschi, Austria's Volksbanken cooperative group was told to increase its ratio by three percentage points to 14.6 percent.
'Specific Case'
Lenders that failed the ECB's stress test were a "specific case," the central bank said in its e-mailed statement. "Given their weaker capital position under stress, it was decided for them to add the shortfall to their actual capital level, with a few institution-specific adjustments. As a result, adequate levels of capital and liquidity buffers may differ between institutions depending on their risk profiles."
Regulators are being seen to require a greater margin of comfort than ever before, far above legal requirements. That's prompting lenders to compete in boosting buffers to reassure investors.
"Keeping up with the neighbors is very much a story when it comes to capital, and we could see those goalposts shift higher," James Longsdon, a managing director at Fitch Ratings, said at an event in Frankfurt on Jan. 14. "It's as much a game of relativity as it is some sort of absolute measure to cover your unexpected losses."
Before it's here, it's on the Bloomberg Terminal.
LEARN MORE